CNS Buries Trump-Epstein Story, Pushes More Minor Crime From Federal Employees
Topic: CNSNews.com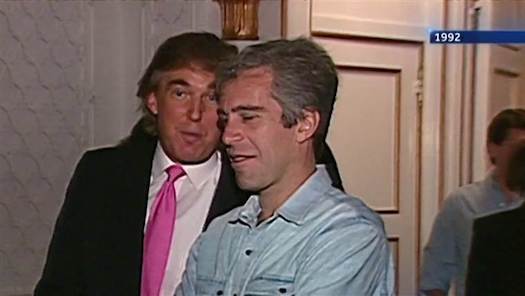 CNSNews.com has an odd habit of ignoring legitimate news that makes President Trump look bad in favor of playing up minor crimes by low-level federal employees.
We see that again with the Jeffrey Epstein story. In contrast to its parent Media Research Center's efforts to deflect the Epstein scandal by trying to turn the story from Trump's connections with Epstein to Bill Clinton's connections with him (despite the fact that Clinton hasn't held public office in nearly two decades while Trump is the current president), CNS largely ignored it. The only mention of it in an original CNS article following Epstein's arrest on sex-trafficking charges was a July 9 piece by Melanie Arter repeating Trump's claim that "he'll be looking 'very carefully' at the role that Labor Secretary Alexander Acosta played in a 2007 immunity deal for billionaire Jeffrey Epstein.
As befit her usual stenography mode, Arter uncritically repeated Trump's insistence that he "was not a fan of" Epstein, but failed to report that Trump said in 2002 that Epstein is a "teriffic guy" and even complemented the man's taste in younger women. When a video surfaced of Trump and Epstein together at a 1992 party -- further disproving Trump's claim never to be an Epstein "fan" -- CNS refused report on it. Nor did it report on Acosta's eventual resignation as labor secretary in the wake of criticism over the plea deal.
The next day, however, an anonymous CNS writer found something that was allegedly more newsworthy: more minor crime by a federal employee!
A National Park Service Facility Manager used a government charge card to buy approximately $2,297 in merchandise that he then pawned, according to a summary of the case released by the Office of the Inspector General for the Department of the Interior.

The government employee was sentenced to one day in jail.
Yep, this was more important to report for CNS than sex-trafficking allegations against a onetime friend of the president.
Posted by Terry K. at 2:50 PM EDT
Updated: Sunday, July 28, 2019 2:57 PM EDT