WND's Massie Joins Peterson In Blacks Sounding Like White Supremacists
Topic: WorldNetDaily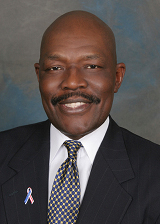 These days, Jesse Lee Peterson is totally crushing Mychal Massie in the WorldNetDaily right-wing black columnist manufactured racism department. As someone who has followed in Peterson's footsteps in sounding like a white supremacist while invoking black-conservative privilege to escape consequences, he knew he had to up his outrage game. Thus, he uses his July 15 column to drop the N-word with impunity to accuse pretty much everyone whose politics he disagrees with of being one, playing off deceased Sen. Robert Byrd's reference to "white niggers":
At the time, I along with many of my colleagues believed Byrd was referencing "poor white trash" in general, and Bill Clinton specifically, and I still believe that today. That said, I'm going to omit Clinton from this conversation, because he's low-hanging fruit.

But, when it comes to the "white niggers" the Democratic elder statesman referenced – I'll get to the black ones later – I'm certain the senator would have agreed that USWNT soccer player Megan Rapinoe personifies the definition of "white nigger/trash."

Snopes, the left-wing online fact-checker site, can dance around the truth as per their custom, but Rapinoe, the mean-spirited nasty lesbian, stepped on the American flag while it lay on the ground on foreign soil, after the American team won the Women's World Cup of soccer in Lyon, France. And it did not bother her one bit.

Rapinoe is the loathsome pustule the media have promoted as the face of America. But then, the media fit my late mother and grandmother's definition of commonality, so it's not surprising they would gravitate to the lowest common denominator, i.e., poor "white trash."

Rapinoe refused to honor the American flag before the start of the women's match, played in France, six days after the world had gathered in commemoration of the World War II D-Day battle that saw thousands of Americans give their lives, so that decades later a spiteful, hate-filled, bitter lesbian who owes everything she has to America could disgrace herself and her team with such rancid insolence.

I will not reference Hillary Clinton as a "white-trash nigger" in this piece, because she, like Bill, is low-hanging fruit. But, I think Joy Behar of "The View" aptly fits the definition, as does Samantha Bee the host of "Full Frontal with Samantha Bee." I'm sure the late Democratic statesman Byrd would have agreed that Cher and Rosie O'Donnell fit the definition as well. When it comes to raw filth and commonality, few surpass these women.

During the interview I referenced, Byrd did not mention "black nigger/trash" – but I will. And I will begin with Rep. Ilhan Omar, the socialist Muslim Democrat (whatever ill-bred concoction that is) from Minnesota. Channeling Byrd, what on earth else can Omar be called, when she "allegedly" married her own brother to perpetrate immigration fraud?
Massie concluded by offering a faux lament:
As I said, nothing in my life prepared me for the somber realization that I would one day agree with the late Robert Byrd, who was admired and loved by those of his party many of whom are alive today.

As long as I'm agreeing with the "Champion figure of the Democratic Party," he could not have been more correct when he said: "My old mom told me, 'Robert, you can't go to heaven if you hate anybody.'"
Massie clearly won't be going to heaven anytime soon, given how filled with hate his column is.
Posted by Terry K. at 1:15 AM EDT