MRC Still Harder On CBS Chief's Sexual Harassment Than Fox News Chief's
Topic: Media Research Center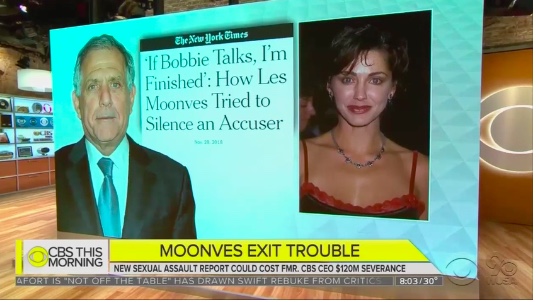 New allegations of sexual harassment have surfaced against for CBS chief Les Moonves, and the Media Research Center is back to tsk-tsk about CBS' coverage of it.
A Nov. 29 post by Scott Whitlock complained that "Despite a combined two and a half hours of available air time, CBS on Wednesday night and Thursday morning allowed just 94 seconds to the latest shocking sexual assault allegations against the network's former chairman and CEO, Les Moonves," adding that "Often, This Morning hosts seem irritated about having to cover the alleged actions of their colleagues." Then, a Dec. 7 post by Whitlock huffed that CBS offered "spin" in its reporting on the alleged offenses by Moonves and other CBS hosts and executives.
Funny, we don't remember the MRC adding up the coverage on Fox News about the hosts and executives there accused of, and ousted for, sexual harassment of women -- including that of founder and longtime chief Roger Ailes.
We'll just remind Whitlock that, as we've documented, he and his employer have shown an almost complete lack of concern about sexual harassment at Fox News -- to the point that his boss, Brent Bozell, lionized Ailes upon his death by claiming that "The good Roger did for America is immeasurable" while completely ignoring the harassment claims and the fact that Ailes' victims would likely have a different assessment of his legacy.
The MRC's continued obsession with sexual harassment at other media outlets only makes its Fox News-shaped blind spot even more glaring.
Posted by Terry K. at 11:48 PM EST