WND, CNS Lash Out At Christian Singer For Failing to Hate Gays Enough
Topic: WorldNetDaily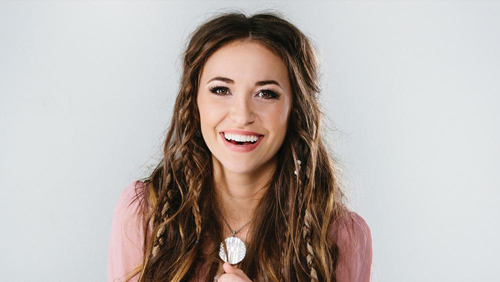 Christian musician Lauren Daigle recently appeared on a Christian radio show and answered a question about whether she thought homosexuality is a sin by saying, "I can't honestly answer on that. In a sense, I have too many people that I love that they are homosexual. I don't know. I actually had a conversation with someone last night about it. I can't say one way or the other. I'm not God."
That didn't go over well with some of the more gay-hating ConWeb columnists.
WorldNetDaily's Michael Brown called Daigle's answer "very weak" and likened it to others who have expressed "compromised views on homosexual practice." Brown insisted his column was "not about Lauren" but about "our response" to her answer -- then argued that Daigle undergo a little Christian re-education:
Perhaps the first thing we should do is reach out to Lauren and say, "We're thrilled with the success God is giving you, and your music has been a tremendous blessing to us. And we're cheering you on when you have the opportunity to appear before the secular world. What a great open door!

"We're also praying for you because we know the temptations and challenges you face are great, and we'd love to spend some time with you looking at the Scriptures together and helping you formulate solid answers to tough questions. Can we do that together?"
Brown did ultimately extend a little sympathy toward Daigle, though framed in re-education: "So, yes, I fully understand the disappointment in Lauren right now. But unless you've been in that situation yourself, you have no idea how you would perform. And even if she did fall short in her answer, now is not the time to condemn her. It's the time to reach out to her, pray for her and make ourselves available to strengthen and equip her."
Over at CNSNews.com, John Stonestreet flip-flopped between feeling sympathy for Daigle for being put on the spot and lecturing about how Christians must reject gays:
Now let me say from the beginning here I understand how hard this high-pressure situation can be. For a young woman like Daigle with a skyrocketing career, calling homosexuality a sin in a public forum could mean closing a lot of doors and alienating a lot of fans. There's a real cost that comes with taking a stand for the Christian view of sex and marriage. Deciding to pay that price in a split second with a microphone shoved in your face is something better-trained theologians and pastors have failed to do.

But this whole story reveals something else—the deep crisis of authority plaguing evangelicalism right now. First, we should be past the point of answering this question, because the Christian view of sex and marriage should be so clear and our commitment to it should be so well-known by now that there should be no longer any point in asking the question!

[...]

Neither the Bible nor nearly two millennia of Christian teaching are at any level ambiguous about homosexual behavior. Numerous passages in the Old and New Testaments condemn it, along with any sexual behavior outside of God's good design for marriage between a man and a woman. No one in Christian history ever doubted this until about five minutes ago. There is no room for disagreement on the point.

For Daigle or any other Christian for that matter to publicly say, "I don't know whether homosexuality is a sin" is like saying "I don't know whether stealing or worshipping false gods are sins."
Stonestreet concludees with a call to all to despise gays like a good Christian should: "What will you say when someone with the power to seriously damage your career asks you what you think about a culturally popular sin? For that matter, what will you say at Christmas dinner when that one relative—maybe a relative who identifies as gay—asks you the same question? There are no easy answers in that moment. But that doesn't mean there are no right answers."
Posted by Terry K. at 11:24 PM EST