AIM Still Silent On Simmons -- But Scrubs Him From Website
Topic: Accuracy in Media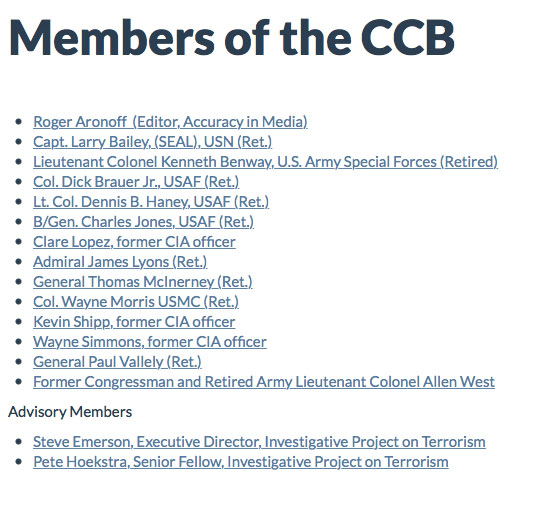 It's been a day since self-proclaimed CIA operative Wayne Simmons was exposed as a fraud, but Accuracy in Media, Simmons' most prominent connection on the right wing -- he serves as a member of its "Citizens' Commission on Benghazi" kangaroo court -- has remained silent on the situation. There's nothing to be found addressing Simmons on its website, its Twitter account or the Twitter of AIM chairman Don Irvine.
AIM has, however, scrubbed Simmons off its website.
Simmons' name has been removed from the list of "Citizens' Commission on Benghazi" members, where it was as recently as two days ago, according to Google cache. Simmons' bio as a CCB member has also been deleted from the website; the page where the bio formerly resided now returns a 404 error.
Yet AIM doesn't want to talk about its actions. Is it afraid that Simmons' fraud will rub off on the committee? Too late for that -- it's already too stuffed with birthers and Obama-haters to be considered credible.
UPDATE: Finally! The AIM website's CCB section has issued a (carefully, tepidly worded) statement -- strangely located in the header of the CCB page, not in its own post, as if it's ready to make this go away quietly as well:
We were stunned and saddened to hear the news about Wayne Simmons. He has been a colleague of ours on the Citizens' Commission on Benghazi since we were established in 2013. We have removed Wayne's name from the list of members on the website of the CCB, pending the outcome of the legal proceedings. As with everyone charged with a crime or crimes in this country, he is innocent until proven guilty. We wish him the best.
The statement then goes on to bizarrely promote how "On April 22, 2014 the CCB released an interim report with preliminary findings." That may have been there before the Simmons statement was posted, but its current juxtoposition makes it look like part of the statement -- and an inappropriately placed promotion, despite the fact that the nature of the allegations against Simmons arguably casts a cloud over the entire CCB.
Meanwhile, AIM's Cliff Kincaid has yet to distance himself from discredited filmmaker Joel Gilbert.
UPDATE 2: Media Matters notes that several more pages referencing Simmons have been scrubbed from AIM's website.
Posted by Terry K. at 3:39 PM EDT
Updated: Friday, October 16, 2015 6:52 PM EDT