MRC Defends Pope From Liberal Critics; Conservatives Can Bash Him All They Want
Topic: Media Research Center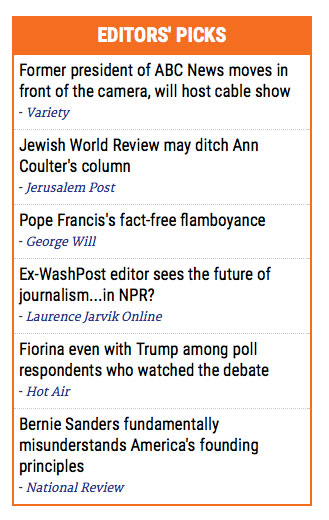 The Media Research Center is usually pretty sensive about criticism of Pope Francis -- understandable since its leadership ranks are heavily Catholic. Here's a sampling of recent headlines on the subject:
Note the one linking factor between those items: the MRC is attacking liberals (or perceived liberals) for their statements on the pope.
By contrast, conservatives are allowed to smear the pope all they want.
For instance, one writer marked Pope Francis' visit to the U.S. by claiming he "embodies sanctity but comes trailing clouds of sanctimony," offers "shrill" social diagonses and "embraces ideas impeccably fashionable, demonstrably false and deeply reactionary." This writer concluded by sneering, "He stands against modernity, rationality, science and, ultimately, the spontaneous creativity of open societies in which people and their desires are not problems but precious resources. Americans cannot simultaneously honor him and celebrate their nation's premises."
If the writer was liberal, the MRC would be all over him. But since the writer is conservative Washington Post columnist George Will, his column has been chosen as an "Editor's Pick" for promotion at NewsBusters, complete with the original headline, "Pope Francis's fact-free flamboyance."
The pope's encyclical on climate change brought out much ire at the MRC. Its "news" division, CNSNews.com, published numerous attacks on the pope, including one commentary by Jen Kuznicki claiming the Vatican is filled with "climate change wackos" and attacking the pope himselffor coming "from Latin America, where corrupt, communistic governments and dictatorships show little regard for their fellow human beings." And just this week, a CNS op-ed claims the pope's support of climate change action means he backs "a political agenda that pushes policies that directly hurt the poor and are contrary to the best science."
It seems that if the MRC is going to be a defender of the pope, it should defend him from all attacks, not just ones from liberals. But that would be too logical; instead, it actually openly encourages conservative attacks on him.
Are Brent Bozell and his fellow followers in faith at the MRC being good Catholics by taking part in such hypocrisy? It doesn't seem so.
Posted by Terry K. at 2:35 PM EDT
Updated: Wednesday, September 23, 2015 2:37 PM EDT