MRC Doesn't Want You To Know Benghazi Committee Whistleblower Was An MRC Intern
Topic: Media Research Center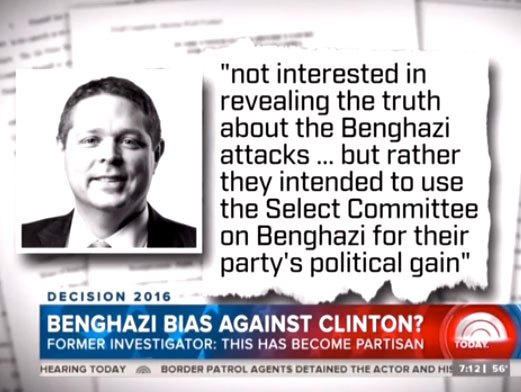 The Media Research Center has been unusually quiet about the accusations from former House Select Committee on Benghazi investigator Bradley Podliska that the committee is a partisan witch hunt out to get Hillary Clinton. All it's done so far is a few NewsBusters posts complaining that his story was being reported (a contrast to MRC "news" division CNSNews.com, which has devoted no original coverage to it).
There's a reason the MRC is downplaying Podliska's story: he used to be one of them.
Talking Points Memo reports that Podliska's conservative credentials are impeccable, and that they include a stint as an intern at the MRC. Indeed, a search of the MRC website reveals Podliska listed as an intern on several items published in September and October of 1996.
Interestingly, none of those NewsBusters posts disclose the fact that Podliska once worked there. Why? Do they feel their association with him was so long ago they can claim no link to him now? Or do they want to distance themselves from the fact that his allegations are exposing something Clinton-hating MRC boss Brent Bozell doesn't want exposed, and are afraid that the MRC will be linked to it because it will undermine the legitimacy of the Benghazi probe?
Podliska has discovered bias the way the MRC taught him to do -- but unfortunately for him, it's bias the MRC endorses and doesn't want to do anything about.
Posted by Terry K. at 8:50 AM EDT