MRC Attacks Writer For Reporting Facts About Margaret Sanger
Topic: Media Research Center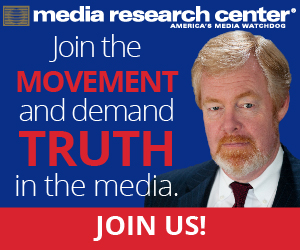 The Media Research Center has a fund-raising campaign going on now featuring the grim, bearded visage of Brent Bozell and the slogan, "Join the MOVEMENT and demand TRUTH in media." But there are sometimes when the MRC doesn't want the truth to be told.
In a March 13 MRC article, Katie Yoder goes after a writer for Christianity Today simply for telling the truth about Planned Parenthood founder Margaret Sanger:
Does Margaret Sanger's legacy have redeeming qualities? One Christianity Today board member thinks it does.

For Christianity Today, Rachel Marie Stone discussed how "Contraception Saves Lives" in a March 11 piece. Stone, who sits on the editorial board of CT, attempted to redeem Planned Parenthood Founder Margaret Sanger through her birth control support – and "give the charge of 'eugenicist' a more complete background." Facing a Twitter backlash, she later defended her story by tweeting about Sanger's "compassion."

To begin her piece, Stone told the story of Margaret Sanger as a "young nurse" who promised to make contraception "widely available to working class and poor women" after watching a woman die after an attempted abortion.

Stone went on to detail how she encountered a midwife, Lena, in Malawi, Africa who studied at the Margaret Sanger Center in Lower Manhattan. "A great woman, Margaret Sanger!" Lena told her.

While Stone "wasn't sure how to reply," she explained how "Sanger founded Planned Parenthood, which, contrary to what Sanger would have wished, is today the largest provider of abortions in the United States."

"Sanger herself opposed abortion," Stone said, by "saying that 'no matter how early it was performed it was taking a life.'"

Huh. Wonder if Stone also knows Sanger described birth control as "nothing more or less than the facilitation of the process of weeding out the unfit" for a "cleaner race."

Stone admitted Sanger, "like many medical professionals in her day, did hold eugenicist ideas," and while she didn't want to "excuse" Sanger, she did "want to give the charge of 'eugenicist' a more complete background."
We can't have a "more complete background" on someone who's been dead for decades yet remains someone right-wingers like Yoder and the MRC consider a sworn enemy, can we?
At no point does Yoder prove that anything Stone wrote about Sanger is wrong. Instead, she's objecting to it having been written at all. Yoder invokes a professor who furthers the attack on Sanger under a piece less-than-objectively headlined "Margaret Sanger's legacy is not salvageable, so let's not try." So much for objective research, eh, prof?
This just shows that Yoder isn't interested in facts when they don't agree with her right-wing agenda -- and that the MRC doesn't really want "TRUTH in media" when it doesn't benefit them.
Posted by Terry K. at 1:38 PM EDT