MRC's Bozell & Graham Put Words In Carville's Mouth
Topic: Media Research Center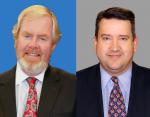 Right-wingers like those who run the Media Research Center hava a complicated relationship with Rupert Murdoch. They love him for creating Fox News, but they're unhappy with Fox's entertainment offerings, which commit the offense of trying to appeal to people who aren't right-wingers and who may be (gasp!) liberal.
So the MRC serves up things like this little screed that kicks off Tim Graham and Brent Bozell's Oct. 23 column:
When James Carville rants that Rep. Trey Gowdy is a super-villain spawned by Rupert Murdoch, conservatives could reply by noting that Murdoch has much less of a financial connection to Gowdy than he does to gay leftist TV producer Ryan Murphy, who had one hit with "Glee" and an ugly garbage barge of other TV programs.

In June 2012, Murphy hosted a $25,000-per-person event at his Beverly Hills home for Barack Obama's re-election that included celebrity attendees Julia Roberts, Reese Witherspoon and "Glee" star Jane Lynch. He threw his own Murdoch money into that cause.

Murdoch's Fox Entertainment Group is presently airing two Murphy shows, a new horror show called "Scream Queens" in what used to be called the "family hour" on Fox, and a fifth season of "American Horror Story" (subtitled "Hotel") on their FX channel, starring outlandish pop diva Lady Gaga.
Graham and Bozell are presumably referring to an appearance by Carville on MSNBC -- in which he said no such thing. He did say that Gowdy "is a creation of the Koch Brothers and the whole climate denial industry" and that the House Select Committee on Benghazi headed by Gowdy "was nothing but a creation of Rupert Murdoch and the Koch Brothers."
Graham and Bozell don't mention the evidence Carville cited to back up that last claim: Fox News has aired more than 1,000 segments on Benghazi before the select committee was created. Which is absolutely true.
They also don't mention that Carville dared anyone to fact-check him. Why? Perhaps because, given that invitation, the MRC chose not to take him up on it; it simply posted the clip, complete with unfulfilled fact-check dare. by contrast, liberal blog Crooks & Liars did the fact-check that the MRC wouldn't, noting that Carville is not entirely correct about Gowdy being a creation solely of Koch interests.
So, instead of telling the truth that Carville is mosly correct in his assertions about Gowdy, Graham and Bozell invent something Carville never said.
Notice also how Graham and Bozell abruptly pivot from the good Benghazi-creating Murdoch to the bad liberal-entertainment Murdoch by bringing up a "gay leftist" creator who purportedly has a greater "financial connection" to Murdoch than Gowdy. Graham and Bozell apparently never counted (or, more accurately, had their MRC employees count) the number of times Gowdy has appeared on Fox News or calculate the value of that free media to Gowdy, the Benghazi committee and Republicans in general.
Just keep clicking on the "Load More" button on Fox News Insider's page on Gowdy to get an idea of those appearances.
The rest of Graham and Bozell's column is whining about Ryan Murphy, huffing that "Every week, there's a political reference" on the shows he created. Which is to say, a political reference that isn't conservative. but the MRC boys would never devote an entire column to that.
Posted by Terry K. at 9:06 PM EDT
Updated: Tuesday, October 27, 2015 9:07 PM EDT