AIM 'Citizens' Commision on Benghazi' Member Accused of Fraud
Topic: Accuracy in Media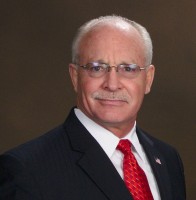 The bio page for Wayne Simmons at Accuracy in Media's website for its "Citizens' Commission on Benghazi" kangaroo court puts "former CIA officer" right in the headline and claims that he "spent 27 years working with the CIA to combat terrorism, narco-terrorism and narcotics trafficking, arms smuggling, counterfeiting, cyber-terrorists, and industrial and economic espionage."
Much of that is not true, it appears.
The Washington Post reports that Simmons has been arrested on fraud charges relating to the self-aggrandizing tales he has told about himself over the years. A federal indictment states that in order to obtain a security clearance for a government contractor, Simmons was "falsely stating that he had been recruited to the CIA in 1973, that he had not previously been charged with or convicted of a felony offense, that his prior arrests and criminal convictions were directly related to his supposed intelligence work for the CIA, and that he had held a top secret security clearance from 1973 to 2000."
Simmons was also charged in an apparently unrelated scam in which he convinced someone to make a $125,000 real estate investment with him, citing "his supposed affiliation with the CIA to bolster his credibility," then used the money for personal expenses.
If Simmons is the fraud prosecutors claim he is, that doesn't exactly bode well for the credibility of AIM's "Citizens' Commission on Benghazi," which is already stuffed with birthers and Obama-haters.
Thus far, AIM has been silent about the charges against Simmons both on its webiste and on its Twitter account, as well as the Twitter account of AIM chairman Don Irvine.
Posted by Terry K. at 2:59 PM EDT