WND Invokes Mental-Illness Defense for Dylann Roof, Doesn't Mention His WND-Aligned Views
Topic: WorldNetDaily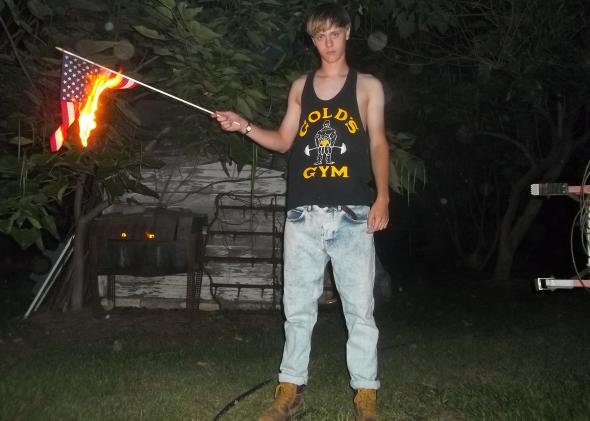 WorldNetDaily has never denied that the things that motivated Dylann Roof to murder nine blacks in a Charleston, S.C., church are the same things that are part and parcel of WND's right-wing editorial agenda: an obsession with black-on-whte crime, the prosecution of George Zimmerman in the death of Trayvon Martin, the moral supremacy of apartheid-era South Africa.
Instead, WND is now denying that Roof was a committed right-winger, just "mentally ill."
In an Oct. 15 WND article, Leo Hohmann complains about government efforts to battle domestic extremism, which he baselessly suggests is being given priority over efforts against Islamic extremism. He further asserts that "the Justice Department sees Islamic jihadists as no more dangerous than mentally ill actors such as Dylann Roof, the Charleston, South Carolina, church shooter who killed nine black Christians."
Hohmann then complains about "a study by the New America Foundation that found nearly twice as many Americans have been killed by 'right-wing' extremists since Sept. 11 than by Islamic terrorists," but the list "includes the Charleston church shooting among 19 'right-wing' attacks, despite evidence that Roof has a history of severe mental health issues."
Hohmann provides no evidence to back up is insistence that Roof was "mentally ill" at the time of the Charleston shooting. Since Roof has not yet been prosecuted in the massacre, no official evidence of mental illness has been put foward.
Salon writer Arthur Chu
notes
that invoking claims of mental illness is a copout, designed to distract attention from the views Roof held and the motivations for his massacre.
In what is surely not a coincidence, Hohmann also fails to mention the WND-aligned views Roof is documented to have held at the time of his massacre.
Instead, he rants about "mind-control programs" the government is supposedly going to start using to make citizens behave in approved ways. He also claims that "John Muhammad, the Washington, D.C., sniper who killed at least 10 people in 2002 with his young accomplice, Lee Malvo," was a "jihadist" attack on the U.S., despite the fact that law enforcement never determined a motive for the attacks and Muhammad and Malvo demanded only ransom money while the attacks were ongoing.
Posted by Terry K. at 6:45 PM EDT