Joseph Farah Thin Skin Watch
Topic: WorldNetDaily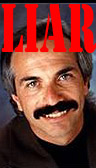 WorldNetDaily editor Joseph Farah has never taken criticism well. His thin skin crops up again in his Oct. 12 column.
Farah whines about how "So-called "progressives" have, in effect, created a new neo-puritanical religion that empowers them, even commands them, to do unto others what they accuse others of doing to them," invoking Jack Cashill's new book "Scarlet Letters" (the name of which Farah misspells at one point, and which he also fails to disclose that he published). Finally, toward the end of his column, Farah vents his spleen at a certain person:
Recently, I was dubbed "anti-American" by a columnist for the Des Moines Register.

"Anti-American"? Really. Why? Because I support the Constitution of the United States? Because I want to protect and defend it as a land of the free? Because I want my kids to grow up with hope and the chance for preserving the liberty and opportunity I knew as a kid?

None of those questions really matter.

Most of these name-callers don't know a thing about the people they attempt to tar and feather as evildoers, sinners and sociopaths.

It's simply what they do.

They do it because it makes them feel better. They are practicing their own false creed. If they had the power to damn their imaginary enemies to hell, they wouldn't hesitate for a minute. If they had the courage to take our lives, I have little doubt many of them would. When they are empowered to positions of authority, they abuse it by punishing those who don't share their sacred values.
Notice that Farah doesn't quote anything from the columnist other than the word "Anti-American" or give any context for the purported name-calling. That's a sign Farah is trying to hide something -- namely, that what he says happened really didn't.
Farah is attacking columnist Rehka Basu and a column she wrote about anti-Muslim discrimination. And indeed, not only does Basu not explicitly call Farah "anti-American," the term "anti-American" appears nowhere in her column -- only in the headline.
Regarding Farah, Basu responded to criticism from him and other right-wingers regarding Ahmed Mohamed, the kid who got in trouble for bringing a homemade clock to school and of President Obama for defending the kid:
Joseph Farah, writing for conservative website World Net Daily criticized Obama for not reaching out to "the hundreds, perhaps thousands, of school children who have variously been punished for drawing pictures of guns, bringing toy guns to school, kissing other students, wearing T-shirts that defend the Second Amendment."

But did they build something?

Demagogues are using Muslims to discredit the president, play to evangelical Christian bases or to serve some other agenda. Evidently none has actually known a Muslim well enough to know how false their gross generalizations are. Or worse, they have, yet do it anyway – leaving Americans more divided and fearful.
In other words, Basu is criticizing Farah for what Farah accuses liberals of doing -- hurling insults about a subject on which they know nothing because it makes them feel better, and for abusing his position of authority to punish those who don't hold his scared values.
No wonder Farah said that the details of what Basu was criticizing him for don't matter. He was ignoring them so he could engage in another dishonest rant.
Posted by Terry K. at 3:00 PM EDT