CNS Anti-Gay Watch
Topic: CNSNews.com
How is CNSNews.com hating on gays lately? Here's a couple of examples.
Melanie Hunter did another of her "how dare the federal government fund gay things!" articles, an Oct. 9 piece complaining that "The National Institutes of Health has awarded $603,412 to the University of Pittsburgh for a five-year study of patterns of healthy aging among gay men." Here's the image CNS chose to illustrate Hunter's article with: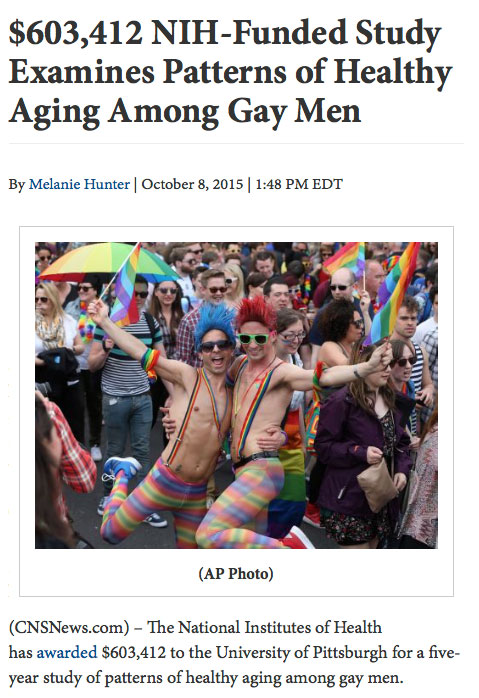 CNS
has a thing
for only depicting gays as flamboyantly and provocatively dressed and marching in gay-pride parades.
Then, an Oct. 12 column by Eric Metaxas warns against young-adult literature that isn't sufficiently hateful of gays:
If your teens read a lot, and I hope they do, they're bound to come across books that promote the gay lifestyle. What to do about that next.

The way to win over a culture is to capture the minds and hearts of its young people. The gay-rights movement has certainly learned that lesson, which helps explain a current trend in youth literature. Anyone who reads books for teens these days will tell you that portrayals of gay relationships and characters are rapidly increasing.

In fact, they're increasing to the point where they're all out of proportion to reality. If you know the statistics on rates of homosexuality in the real world, you know that it's somewhere around 3 percent, maybe less. Not so in the world of Young Adult fiction; there, it's far more pervasive.

Book reviewers on the Youth Reads page at our website BreakPoint.org, are noticing that the subject is coming up in more and more contemporary teen novels. It doesn't matter if they're romances or fantasy novels or any other genre—the theme runs through all kinds of books for this age group. Acclaimed author Rainbow Rowell is just one prominent recent example. She wrote a bestselling young adult book about a college girl who writes stories about a gay couple—and then Rowell wrote her own young adult book about the gay couple in her character's stories!
Metaxas' column is headlined "Disproportionately Gay: Alarming Trend in Youth Lit." Metaxas did not identify what he considered to be a suitably proportionate number of gay characters in young-adult literature, nor did he identify an enforcement mechanism he would use to achieve that desired proportion.
Posted by Terry K. at 9:57 PM EDT