Shocker: CNS Acknowledges New Josh Duggar Scandal Exists
Topic: CNSNews.com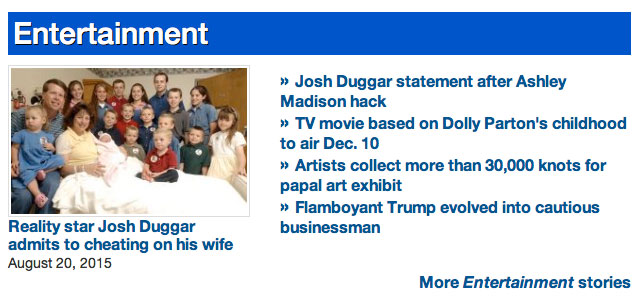 Given CNSNews.com's previous friendliness with Josh Duggar and its
efforts to bury
allegations Duggar as a teenager molested several girls including his sisters, we wondered how, if at all, CNS would cover the news that Duggar's name turned up among the leaked clients of affair-facilitating website AshleyMadison.com. and his subsequent admission of unfaithfulness to his wife and an "addiction" to pornography.
Well, we have our answer: as perfunctorily as possible.
The story did make the front page, but CNS didn't consider it worthy of in-house coverage, despite the fact that it has conducted previous interviews with him. Instead, it simply reproduces an Associated Press article on the scandal and another AP article detailing the statement Duggar issued.
But note in the screenshot above where CNS has categorized the articles: Not at the top of the front page, not in the culture section, but as "entertainment." Apparently, now that the Duggars are scandal-tainted, they are now "entertainment," even though they pre-scandal appeal was based on the right-wing Christian culture they promoted (with help from CNS).
CNS gets a point or two for actually acknowledging the story deserves front-page coverage (we didn't even have to shame them into it this time), but it was slow to the coverage party, and the story is still getting much less promotion than the Duggars' pre-scandal message CNS was all too willing to propangandize.
Posted by Terry K. at 6:39 PM EDT
Updated: Friday, August 21, 2015 6:52 PM EDT