WND Buried White Racist Shooter's Manifesto, Plays Up Black Racist Shooter's Manifesto
Topic: WorldNetDaily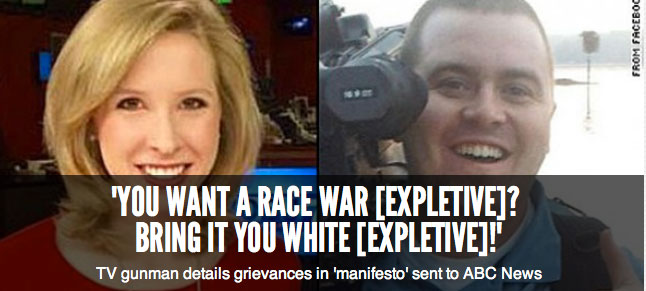 When white shooter Dylann Roof murdered nine blacks in a Charleston, S.C. church in June in the hopes of starting a race war, WorldNetDaily wasn't much interested in covering the story -- perhaps because his racial views
mirrored WND's editorial agenda
. News of the discovery of Roof's manifesto, in which he echoed WND's concerns over "black-on-white crime," support for George Zimmerman and lament for the end of apartheid in South Africa, merited only an article
stolen from the Daily Mail
just a few paragraphs long, plus a Jack Cashill column
speculating
that Roof didn't actually write it.
But a black person who shoots white people for apparently racial reasons? WND is on it.
An Aug. 26 WND article by Bob Unruh blares as its headline a quote from the apparent manifesto of Vester Lee Flanagan, a black man who shot a Virginia TV correspondent and her cameraman, both white, during a live broadcast before killing himself: "You want a race war [expletive]? BRING IT THEN YOU WHITE [expletive]!"
While WND is eager to play up the racial aspects of this shooting -- its coverage of the Flanagan shooting also includes highlighting Rush Limbaugh claiming the media is conflicted over the shooting because the shooter is black and a video-embedded item luridly titled, "See shooter killing news TV crew" -- it's still pretty squeamish about Roof's massacre. Unruh nots that Flanagan "wrote that the murder of black people at the South Carolina church in June pushed him over the edge," but he doesn't explain the circumstances of that shooting. Later, Unruh acknowledges the full context of the headline quote, that Flanagan was directly responding to Roof's call for a race war. Unruh then added, "Reports said Roof killed blacks because he wanted a race war" -- but doesn't note that Roof was the Charleston shooter, or that among the outlets issuring "reports" on Roof's intent was his employer.
(Meanwhile, Joseph Farah's column lamenting "the tragic and mysterious shooting ... that took the lives of a young TV reporter and her cameraman" is more than slightly contradicted by his website's enthusiasm for touting the graphic video of the shooting. Farah solemnly calls it "reality television at its most gruesome" -- but he's going to milk this tragedy for every eyeball he can draw to his website to watch it.)
So, to sum up: A white racist shooter isn't news at WND, while a black racist shooter is. But you knew that already.
Posted by Terry K. at 9:17 PM EDT
Updated: Wednesday, August 26, 2015 9:57 PM EDT