NewsBusters' Dylan Gwinn Whiffs Again
Topic: NewsBusters
P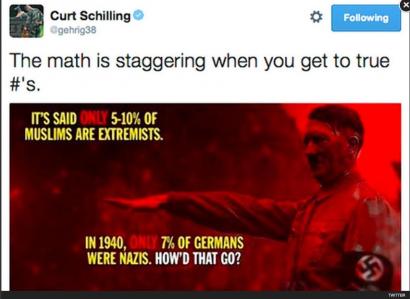 oor Dylan Gwinn. He doesn't seem to know when to give it up.
Gwinn's nasty, uninformed sports-themed blog stylings continue in an Aug. 25 NewsBusters post defending ex-baseball player Curt Schilling's tweet likening Muslims to Nazis, which earned Schilling a suspension from ESPN:
Schilling may understand the reasons for his suspension. Yet, they remain a mystery to me. There is nothing factually inaccurate with the message of the tweet. It in no way compares "Muslims" to Nazis. It compares the number of Muslim "extremists" to the number of German extremists, with the point being that whether you accept the math or not, extremists need not have a numerical majority in any one country or religion in order to take control, and create catastrophic results for the rest of the world.

Which, is absolutely true.
Actually, it's not -- both Schilling and Gwinn got it wrong. As Vox explains:
Muslims are by far the number-one victims of extremist groups such as ISIS: They are the most likely to be killed by ISIS, and they are the most likely to actively fight ISIS. Nazi-era Germans, on the other hand, overwhelmingly supported and fought for the Nazi regime. So in fact the relationship between Nazi-era Germans and Nazi crimes is the exact opposite of the relationship between Muslims and ISIS.
Nevertheless, Gwinn concludes his post by writing, "But of course, truth is always the first casualty." Only in your work, dude.
Posted by Terry K. at 8:16 PM EDT