MRC's Bozell & Graham Cherry-Pick To Attack Stewart
Topic: Media Research Center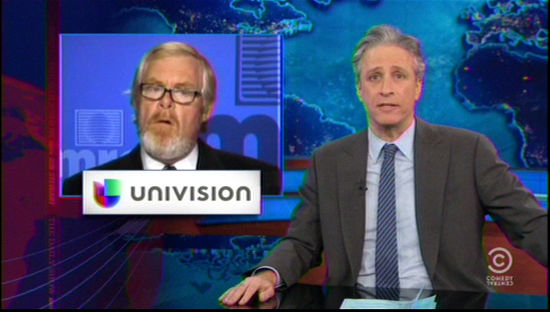 Kicking off what is sure to be a week full of envy and spite at the Media Research Centder as Jon Stewart finishes up his run as host of "The Daily Show," Brent Bozell and Tim Graham devote their July 31 column to raging over Stewart's "secret" meetings with President Obama. In particular, they obsessed over one particular line:
Naturally, on his way out the door at Comedy Central, Stewart tried to turn the whole story into a nasty joke. After playing a series of Fox News clips reporting on the secret meetings, he announced one Obama meeting included Elvis and a space alien and the meeting opened with "the traditional Saul Alinsky prayer" before they "took turns [sexually penetrating] a replica of the Reagan eye socket." But wait, it gets worse. "The real Reagan eye socket is kept in the Smithsonian, and is only f—-ed on Christmas."

This kind of "comedy" mocking Christian, Fox-watching, Reagan admirers is his daily dish.
Actually, Stewart was mocking people and Bozell and Graham, who seem to think that's what actually happened during the Stewart-Obama meeting.
Apparently, Bozell and Graham stopped watching the "Daily Show" segment after that joke, for they missed Stewart explaining what happened in that White House visit and why he went.
Stewart pointed out that he had been mocking Vladimir Putin long before the "secret" meeting with Obama in which he was purportedly instructed to do so, adding:
Let me tell you how this happened. The president asked me to come to Washington, and I did. Because if the president tells you and you don't, who the [expletive] know what would happen?And by the way, to all future presidents: If you ask me to do that, I will do that, because I have no idea how to react to that other than, "What time?"

And here's how the meetings went. Here's what happened: We spent about five to seven minutes with Obama kind of scolding me not to turn young Americans cynical. And then I spent five to seven minutes explaining to him I'm actually skeptically idealistic and smiling like this. And then we spent about 45 minutes arguing about "really, the VA can't befixed any quicker?" of "Healthcare.gov can't come online without crashing my son's Minecraft game?" And then the whole thing basically takes place over some of, truly, the best salmon you have ever had.

Remember my interview with Obama last week? It was that, but with salmon.
Don't expect Bozell and Graham to provide the behind-the-scenes transparency for its "news" operation, CNSNews.com, that it demands (and ultimately received) from Stewart because, well, the MRC does not believe CNS should operate by the same rules it demands the "liberal media" follow.
Stewart also noted he had an actual secret meeting with Fox News chief Roger Ailes. But none of this matters to Bozell and Graham. Stewart committed the unforgiveable offense of making a joke at the sainted Reagan's expense, so he must be destroyed.
Well, that and the fact that Bozell and Co. are insanely jealous of Stewart's free-market success, especially compared to its own attempt at political satire, "NewsBusted," which is so painfully unfunny the even other right-wing websites ignore it.
Posted by Terry K. at 8:19 PM EDT