If Media 'Owns' TV Station Shooting, WND Owns Charleston Massacre
Topic: WorldNetDaily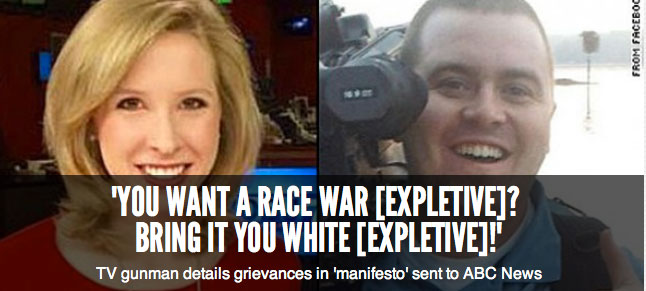 From an Aug. 29 WorldNetDaily
article
:
Black leader, author and commentator Jesse Lee Peterson is charging the mainstream media bears partial responsibility for the charged circumstances that allowed the on-air murder of a television reporter and her cameraman in Virginia this week. Peterson, an African-American civil-rights leader, talk radio host and WND columnist, believes the media has been stoking the fires of black-on-white racial hatred.

Pointing to the media's coverage of the recent church shootings in Charleston, South Carolina, Peterson argued the press is creating an uncontrollable sense of anger among many blacks.

"To understand how lethal this anger can be, it might pay to look at the phenomenon of the black mass murderer," Peterson told WND. "You say, what? Black mass murderer? If you are like a lot of people, you think mass murder is a white thing. The media encourage you to do so. This is a riff you hear occasionally from black comics as well, but the perception results from the way the media treat black serial killers, not from the reality on the ground."

[...]

Jack Cashill, a WND columnist and the author of "Scarlet Letters: The Ever Increasing Intolerance of the Cult of Liberalism," went even farther than Peterson.

"The media own this tragedy," Cashill stated bluntly. "For years, they have suppressed the ample news of black on white crime, trumpeted the rare news of white and black crime, and stoked a sense of grievance among black Americans."

[...]

Colin Flaherty, a reporter who has written extensively on racially motivated crimes against whites and the author of "White Girl Bleed A Lot: The Return of Racial Violence to America and How the Media Ignore It," agrees "it is absolutely fair to say the mainstream media enabled the black racial hostility that contributed to these murders."
Unmentioned by WND: Using this same standard, WND is partially responsible for the Charleston massacre.
As we've documented, massacre suspect Dylann Roof's racist rhetoric includes an obsession with George Zimmerman, black-on-white crime and apartheid-era South Africa -- all subjects promoted by WND.
We've also noted that WND did not cover the Charleston massacre the way it's covering the killing of the WDBJ reporters -- as the above article demonstrates, it's playing up the racial aspects of the manifesto of black WDBJ killer Vester Flanagan while burying the white supremacist aspects of Roof's manifesto -- the above image on Flanagan's manfesto has no equivalent in WND's coverage of Roof. WND even dispatched Cashill to claim Roof didn't actually write his manifesto. (Funny, we don't see Cashill doing any writing analysis of Flanagan's manifesto, do we?)
This is the WND editorial agenda as approved from the top. Editor Joseph Farah wrote in his Aug. 27 column:
Why do you suppose Barack Obama was so quick to jump to conclusions about potential racial motivations behind the shooting of Michael Brown in Ferguson, Missouri, when there were none, and so slow to do so in the case of Vester Lee Flanagan, where they are documented by the attacker himself?

Do I need to explain the difference?

The man who killed Michael Brown was a white police officer acting in self-defense. Any potential for him to continue his career path as a law enforcement officer was doomed by the actions of Obama and his attorney general, Eric Holder, who sent a legion of investigators to Ferguson to see that justice was done. At the end of the day, Holder was reluctantly forced by the facts on the ground to conclude the white police officer acted justifiably under the circumstances.

Meanwhile, the man who killed reporter Alison Parker and cameraman Adam Ward was a gay, black man who let the entire world know the motivations for his cold-blooded murders – racial hatred and a vague contention that he had been offended by something his two former colleagues said or did with regard to his identification as "gay."

Here we have two stark contrasts in cases of shootings involving whites and blacks. There are, of course, hundreds of examples like these. But I am first and mainly interested in suggesting that Obama's view of such violence is racist.
By contraxt, Farah did not devote a column expressing similar concerns about the Charleston massacre -- it didn't even rate a mention in a column he wrote arguing that June 2015, the month in which the massacre was committed, was "the biggest news month of our generation." Therefore, we can assume that -- by applying his own standards, given two stark contrasts in cases of shootings involving whites and blacks -- his view of such violence is racist.
Farah goes on to rant: "Obama: Do you have nothing to say about the tragic murders in Virginia besides having your government-paid mouthpieces blame guns?"
Meanwhile, Farah has nothing to say about the Charlreston massacre while his paid mouthpieces blame black people. It's time for Farah to admit the racist slant of his editorial agenda.
Posted by Terry K. at 9:03 PM EDT