CNS Pushes Bogus Idea That Trump Cares About 'Election Integrity'
Topic: CNSNews.com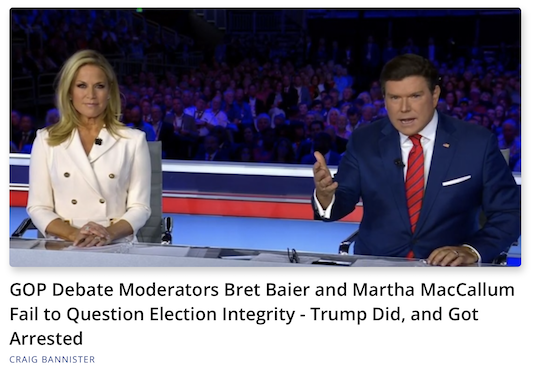 CNSNews.com is nothing more than a right-wing blog these days, though we still pop in on occasion to see how Craig Bannister -- the only remaining employee from when CNS tried to be a "news" organization -- is peddling right-wing narratives. He did just that in an Aug. 24 post under the wildly dishonest headline "GOP Debate Moderators Bret Baier and Martha MacCallum Fail to Question Election Integrity - Trump Did, and Got Arrested":
The first Republican presidential primary debate, hosted Wednesday by Fox News Channel and moderated by Bret Baier and Martha MacCallum, failed to address the issue of election integrity. But, former President Donald Trump says he'll "proudly be arrested" for doing so.

Conservative voters, pundits and politicians expressed disappointment and disenfranchisement over the omission of the topic, including former Arizona governor candidate Kari Lake, who questioned how election issues can be resolved without discussing election integrity.

Lake's sentiments reflect those of many voters. A recent poll conducted by the Honest Elections Project, revealed that a significant majority of U.S. voters - including Black and Hispanic voters - support measures such as voter ID requirements and limitations on mail-in voting.

A poll by the Honest Elections Project found that nine in ten (88%) of U.S. voters - including Black and Hispanic voters - support measures to improve election integrity, such as voter ID requirements and limitations on mail-in voting.

The poll also highlighted the prevailing preference for in-person voting over mailed-in ballots, with three-fourths of voters stating their preference for the former. Furthermore, there was overwhelming opposition (89%) to the idea of noncitizens voting in U.S. elections, underscoring the significance of election integrity as a pressing concern. Likewise, 72% said they oppose lowering the voting age to 16.
Key to Bannister's narrative is not explaining anything he's writing about. "Election integrity" is nothing more than a euphemistic term to describe right-wing efforts to reduce the number of registered voters out ot the belief that doing so gives Republicans a better chance at winning elections. Bannister failed to mention that Lake, like Donald Trump, refuses to admit that she lost her race for Arizona governor and is making up tales of election fraud to justify her failure to acknowledge reality. He also failed to disclose that the Honest Elections Project is a right-wing group dedicated to suppressing voter registration, and it promoted a fringe theory that state legislatures have absolute power to control elections that can't be infriged upon by state constitutions or even courts.All the poll results Bannister cited are tailored to support the organization's objectives,including raging against voting by mail.
Bannister then portrayed Trump as a victim and promoted his ranting abouty "election integrity":
In stark contrast to the debate's oversight, former President Donald Trump made a bold statement on his social media platform Truth Social. Trump declared himself to be the foremost advocate for election integrity and pledged his willingness to be arrested for standing up for this cause:

"NOBODY HAS EVER FOUGHT FOR ELECTION INTEGRITY LIKE PRESIDENT DONALD J. TRUMP. FOR DOING SO, I WILL PROUDLY BE ARRESTED TOMORROW AFTERNOON IN GEORGIA. GOD BLESS THE UNITED STATES OF AMERICA!!!"


Trump will turn himself in at the Fulton County Georgia on Thursday, after District Attorney Fani Willis indicted him, claiming that he tried to overturn the 2020 election results in the state.

In her zeal to convict him, Willis leveled a variety of charges with dubious and fanciful relevance to election interference.
Bannister failed to tell readers that none of Trump's claims of election fraud have held up upon scrutiny. And his claim that the charges against Trump have "dubious and fanciful relevance to election interference" cited a Fox News report noting the RICO-centered charges, which simply illustrate that there was a broader conspiracy to interfere with the election results.
This is the kind of thing the Media Research Center blew up CNS to end up with.
Posted by Terry K. at 6:20 PM EDT
Updated: Thursday, September 21, 2023 6:26 PM EDT