CNS Targets Republicans Who Support Gay Marriage
Topic: CNSNews.com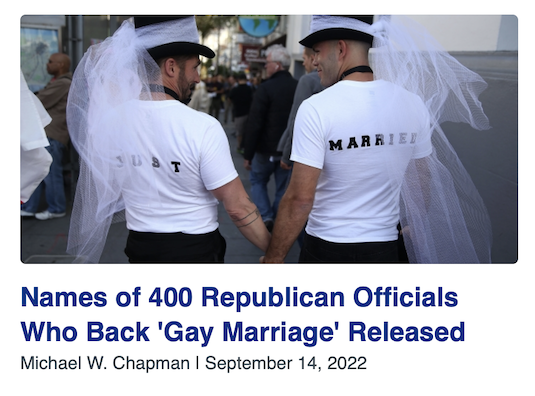 CNSNews.com -- in particular, homophobic managing editor Michael W. Chapman -- does not like the idea of gay marriage, and it likes even less that its fellow right-wing ideologues are refusing to hate gay marriage as much as it does. (Reduced right-wing anti-LGBT hate is something it has previously complained about). So when gay marriage became an issue again this summer when right-wing Supreme Court Justice Clarence Thomas wrote in his concurring opinion overturning Roe v. Wade that the Obergefell ruling that legalized gay marriage should be overturned as well, CNS was shocked to find that Republicans were not rushing to embrace that view. An anonymously written July 20 article, under the headline "47 Republicans Vote to Enshrine Homosexual Marriage in Federal Law," felt the need to name the names of the Republicans who deviated from right-wing ideology:
Forty-seven Republican members of the U.S. House of Representatives joined 220 Democrats on Tuesday in voting to enshrine homosexual marriage into federal law.

The "Respect for Marriage Act" was passed 267-157 by the House with 7 members not voting.

The bill, sponsored by Rep. Jerrold Nadler, is designed to be a backstop if the Supreme Court someday issues a decision overturning Obergefell vs. Hodges, the 2015 opinion in which the court declared that the 14th Amendment had created a right for two people of the same sex to marry each other.

[...]

The 47 Republicans who voted to enshrine same-sex marriage in federal law included Rep. Adam Kinzinger of Illinois; Rep. Liz Cheney of Wyoming; Rep. Lee Zeldin of New York; Rep. Kelly Armstrong of North Dakota; Rep. Don Bacon of Nebraska; Rep. Mario Diaz-Balart of Florida; Rep. Ken Calvert of California; Rep. Elise Stefanik of New York; and Rep. Michael Waltz of Florida.
Yes, the anonymous writer insisted on using "homosexual marriage," even though it's a term that no normal human uses in real life.
Two days later, an article by summer intern Janey Olohan tried to corner Republican Sen. John Cornyn with a gotcha question noting the House passage of the bill: "Do you believe that a baby has a right to a mother? Or are two fathers just as good as a mother and a father?" Cornyn apparently disappointed CNS by answering that "It's already the law of the land. I think it's a contrived issue because the Supreme Court decided the issue, so I don't see any reason for the Congress to act," which may explain why no other member of Congress was asked the same question.
When more Republicans came out in favor of gay marriage, Chapman was so outraged that he wrote two articles about it that basically said the same thing. In a Sept. 12 article, Chapman groused:
More than 400 former and current GOP officials have signed a letter backing the Respect for Marriage Act, legislation that would repeal the federal Defense of Marriage Act and legally recognize gay marriage as valid under state law. The Supreme Court already ruled (in 2015) that same-sex marriage is legal and this bill would essentially codify that ruling into federal law.

The Democrat-dominant House passed the Respect for Marriage Act on July 19. The legislation is now in the Senate, which is split 50-50 Democrat-Republican. Democrats need at least 10 Republicans to sign onto the bill to attain the 60 votes needed to surpass a filibuster.

GOP Sens. Susan Collins (Me.) and Rob Portman (Ohio) are co-sponsors of the bill. Sen. Thom Tillis (R-N.C.) supports the legislation, and Sen. Lisa Murkowski (R-Alaska) has indicated she backs gay marriage.

The new letter signed by GOP officials in support of the Respect for Marriage Act was produced by Centerline Action and Conservatives Against Discrimination.
For reasons that are unclear, Chapman felt the need to write this article again two days later. This time, though, he made sure to put "gay marriage" in scare quotes and added more names:
More than 400 prominent Republicans have signed on to a letter in support of "gay marriage" and the passage of the Respect for Marriage Act, which would protect such couplings in federal law and repeal the 1996 Defense of Marriage Act, which defined marriage as the union of one man and one woman.

News of the letter surfaced on Monday, Sept. 12, and the list of names was released today by Centerline Action, a new organization that describes itself as being "focused on forging consensus to advance centrist policy solutions capable of defending core constitutional freedoms and liberties, preserving a free market economy, and limiting the role of government in Americans' everyday lives."

[...]

Some of the 400-plus names of prominent Republicans who support "gay marriage" include,

Bob Packwood, former U.S. senator for Oregon

John Danforth, former U.S. senator for Missouri

Christopher Cox, former U.S. representative for California and chairman of the U.S. Securities and Exchange Commission

Barbara Bush, daughter of former President George w. Bush

Mary Cheney, daughter of former Vice President Dick Cheney

Barbara Comstock, former U.S. representative for Virginia

Douglas Holtz-Eakin, former director of the Congressional Budget Office

Mary Matalin, former assistant to President George W. Bush

Bruce Mehlman, former assistant secretary of Commerce for Technology Policy under President George W. Bush

Margaret Tutwiler, spokesperson for the U.S. State Department under President George W. Bush

Olympia Snowe, former U.S. senator for Maine

Christopher Shays, former U.S. representative for Connecticut

Mehmet Oz, current GOP nominee for U.S. senate for Pennsylvania

Tom Ridge, former assistant to the president for Homeland Security

Ileana Ros-Lehtinen, former U.S. representative for Florida

Karen Rove

Rick Lazio, former U.S. representative for New York

Tony Fabrizio, Republican pollster

S.E. Cupp, columnist and political commentator
Other signers of the letter are listed below.
Chapman seems to be putting his hatred of LGBT people ahead of fair and efficient journalism.
Posted by Terry K. at 1:36 AM EDT
Updated: Thursday, October 6, 2022 10:18 PM EDT