Dubious WND/AAPS Doc Goes On A Rant Against Fauci
Topic: WorldNetDaily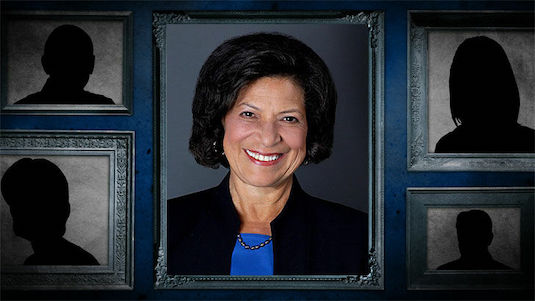 The last time we checked in on WorldNetDaily columnist and fringe-right Association of American Physicians and Surgeons member Marilyn Singleton, she was lying about being "censored" for talking about dubious treatments for coronavirus. In her March 29 column, she lashes out at the "federal medical bureaucracy" for its response to the pandemic, claiming that it "has resulted in a wasteland of lost economic and educational opportunities, psychologically damaged children, terminally lonely nursing home residents and lives lost to suicide, illicit drug overdoses and missed diagnoses." Actually, suicide rates in the U.S. declined over the past year.
Singleton then asserted: "So why were children barred from attending school? To protect Grandma. Even if children were found to be transmitters of disease – they haven't been – a sensible alternative to depriving all students of a proper education and social life would have been to ask children whether elders lived in their homes. If so, that group could have been provided with educational accommodations. But the way of bureaucracy is all or none with no room for individual considerations." Actually, children are much more likely than older adults to infect other family members.
Singleton went on to play into the longtime right-wing obsession with attacking Anthony Fauci -- and, of course, invoked her favorite dubious coronavirus treatments in the process:
With the media's help, the public health gurus waged a campaign of fear to keep us in line while we waited for Dr. Fauci's solution: vaccines. One of the medical bureaucracy's biggest (intentional) missteps was the failure to support early treatment of COVID. They told us to stay home until we couldn't breathe. Of course, at that point the virus has overwhelmed the body. The scientific elite maligned study after study and thousands of clinical successes with early treatment with hydroxychloroquine and ivermectin in favor of unproven high-priced drugs. Despite the CDC and FDA previously acknowledging the 60-year safety record of hydroxychloroquine, it miraculously became harmful in 2020.

It is as if the medical bureaucrats are making up the ever-changing rules as they go along. They claimed they were "following the science." Why haven't we heard from these politically driven experts as hundreds of illegal migrants are released into the United States without COVID tests while U.S. citizens are being fined for not wearing useless masks?

Shameless non-clinician bureaucrats have stolen our lives, stolen the smiles from children's faces and bullied a segment of the population into paralyzing fear. Those hiding behind masks (including our precious children) no longer see people as people, but as 170-pound nests of germs and certain death.

Dr. Fauci remains the highest paid federal government employee, and Dr. Birx has moved on to her private air purifier consulting job. Meanwhile, we are left in the wasteland with their legacy: boarded up shops, needless lost lives, and the death of common sense, scientific discourse and medical freedom that we may never regain. And why?
Well, in no small part because of right-wing, AAPS-affiliated agitators like Singleton who have no problem politicizing a pandemic to push a political agenda that casdts doubt on legitimate medicine. Not that she'll ever admit that, of course.
Posted by Terry K. at 12:07 AM EDT