MRC: Netanyahu's Racist Attack On Arabs Is OK Because Arabs Are Anti-Semitic
Topic: Media Research Center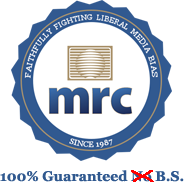 When media outlets highlighted the racist nature of Benjamin Netanyahu's ranting about Arabs voting in the Israeli election in an attempt to boost right-wing turnout that would support him, the Media Research Center took exception.
The MRC seems to know that Netanyahu's remarks are indefensible. So it's taking a diversionary tack by arguing that israeli Arabs are anti-Semitic.
Curtis Houck complained hat CNN's Christiane Amanpour noted criticism within Israel of Netanyahu's Arab attack, then added: "While Amanpour was mounting a full defense of Arab-Israelis, she failed to cite the fact that the Arab parties that combined to form a joint list for the election include members who have some radical and arguably anti-Semitic policies themselves."
Clay Waters follows in those footsteps by dismissing criticism by New York Tiems writers of Netanyahu by asserting "Speaking of racism, official Palestinian Authoritarian descriptions of Jews as apes and pigs was left unremarked upon by the hypocritical Times."
Waters then huffed, "Israel must count itself fortunate indeed that the liberals on the Times editorial page know what's best for a country thousands of miles away and surrounded by enemies who want it wiped off the map."
Meanwhile, Netanyahu must count himself fortunate that American right-wingers like those at the MRC will give him a pass on his racism by making the lame equivocation that his enemies are supposedly even more racist.
The MRC has so little problem with Netanyahu's racism, in fact, that it's running a promotion A March 18 email to its mailing list complains that MSNBC "went out of their way to attack the sitting prime minister" by having on a guest who highlighted the racist attack, as described in an item by Kyle Drennen.The MRC then promoted its anti-NBC petition.
At no point does the MRC deny that Netanyahu's words are racist; they are simply attacking anyone who points that out.
Posted by Terry K. at 12:31 PM EDT
Updated: Thursday, March 19, 2015 12:37 PM EDT