MRC Excuses Netanyahu's Racist Appeal As Just A Get-Out-The-Vote Effort
Topic: Media Research Center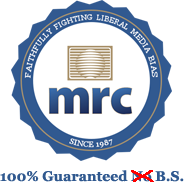 Last time we checked in with the Media Research Center's manufactured outrage over media figures calling out Benjamin Netanyahu's racist, anti-Arab appeal to fearmonger his supporters to get to the polls, it was justifying it by claiming that Arabs are anti-Semitic.
The MRC has now expanded on its defense of Netanyahu. Rich Noyes complains in a March 21 NewsBusters post:
In attacking Netanyahu's campaign tactics, some liberal journalists smeared American conservatives as well: "In what appeared to be a panicked last-ditch ploy to turn out right wing voters today, he took another page in the American playbook, resorting to demagoguery," MSNBC's Chris Hayes announced on Tuesday night, saying of Netanyahu: "He is Israel's George W. Bush."

On Wednesday, The Atlantic's Jeffrey Goldberg hit the same note on MSNBC's Andrea Mitchell Reports: "He kind of played the Israeli version of the Southern Strategy and basically tried to scare his base into coming out and giving their votes to him by saying, essentially, 'the Arabs are coming.'...He used that as a scare tactic. So it's a pretty brutal 48 hours from certain perspectives."

Here's what Netanyahu posted on his Facebook page on Tuesday that so offended journalists: "The right-wing government is in danger. Arab voters are coming out in droves to the polls. Left-wing organizations are busing them out."

The various Arab parties that cooperated to form a Joint List for Tuesday's election all vehemently opposed Netanyahu for Prime Minister. So how is it wrong to point out, in essence, that "the other side seems to be getting its voters out, so we'd better, too."?
That's right -- Noyes is justifying Netanyahu's racist appeal as a mere get-out-the-vote tactic.
Any U.S. politician making a similar appeal by singling out an entire race or ethnic group would be called out for doing so -- and if that politician were a liberal, the MRC would be at the head of the pack. But because Netanyahu is a popular right-winger, he gets a pass from the MRC.
Posted by Terry K. at 10:23 PM EDT