WND Ignores WND Reporter's Investigation of Cruz's Eligibility
Topic: WorldNetDaily
WorldNetDaily's Aaron Klein tweeted out a preview of his March 29 radio show: "On my radio show TONIGHT 7-9 p.m: Is Sen. Ted Cruz "natural born" and Constitutionally eligible? I'll investigate."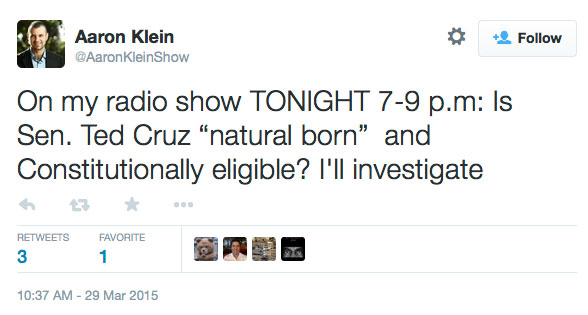 You'd think WND would be quick to pounce on this investigation by one of its reporters by detailing that evidence. But, strangely, it hasn't. No mention of Klein's investigation of Cruz's eligibility ever made it to WND.
WND did, however, publish another article based on Klein's radio show, his interview with Frances Fox Piven, who right-wingers like Klein blame for "the infamous so-called Cloward-Piven Strategy."
Two days after Klein's radio show (which moved downmarket from WABC to a small-wattage station in New York) aired, WND still hasn't mentioned Klein's investigation. It did publish an article by Garth Kant fawning over how much Cruz's politics resembles that of Ronald Reagan.
Meanwhile, Klein himself apparently doesn't want his radio show that well listened to. The podcasts of his show are entombed behind a paywall, and one must pay $4.99 for the privilege of listening to him.
So unless you were actually listening to Klein on Sunday evening, the results of his Cruz investigation are going to be difficult to obtain. Which, given WND's wild enthusiasm for Cruz's presidential candidacy and double standard for eligibility concerns between Cruz and Obama, is presumably just the way WND wants it.
Posted by Terry K. at 6:53 PM EDT