CNS Portrays Extremist Pastors As 'Conservative Black Leaders'
Topic: CNSNews.com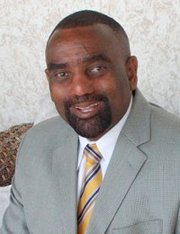 CNSNews.com is devoting another article to its homophobic obsession with the cherry-picked, out-of-context reference President Obama made to gays during last weekend's speech in Selma, Alabama. In it, Lauretta Brown obtains reaction from what she claims are "conservative black leaders" to the reference, giving no indication she provided the correct and complete context of the statement to them.
So who are these "conservative black leaders" that Brown thinks are worthy of perpetuating this manufactured controversy?
-- Bishop E.W. Jackson is a notorious homophobe, declaring that gays are "very sick people psychologically, mentally and emotionally" and asserting that God will punish America for advancing marriage equality. and Obama-hater. He's also a rabid Obama-hater, stating last month that Obama may be mentally ill.
-- Jesse Lee Peterson is a Sean Hannity-backed pastor and WorldNetDaily columnist who has issues with women. He's also a rabid Obama-hater who once claimed that the president is "committed to spreading evil."
In his comments to CNS, Peterson went even farther off the Obama-hating rails by likening Obama to a Ku Klux Klan leader. No, really:
Rev. Jesse Lee Peterson of BOND (The Brotherhood Organization of a New Destiny) was similarly critical of the president's speech.

"There was no hope in that rally," Peterson said. "Just think about this: 50 years later we have a black president in the United States of America. This country has done more than any other country to make amends for slavery in this country and yet there was no appreciation of that. There was no praise of America, thanking America for what it had done. It was as though it was still 1955."

"It was disgusting, it was evil, it was wrong," said Peterson.

"That rally was a klan's rally, was no different than the KKK, it was a hate rally, a hateful rally," said Peterson.
The third "leader" Brown quoted, C.L. Bryant, has complained that Obama isn't a real black American and his election is a "slap in the face" to those who are.
These are who Brown and CNS consider "conservative black leaders." Actual conservative black leaders should be insulted.
Posted by Terry K. at 9:27 PM EDT
Updated: Tuesday, March 10, 2015 9:35 PM EDT