What Transgender Stuff Is Tim Graham Freaking Out About This Week?
Topic: NewsBusters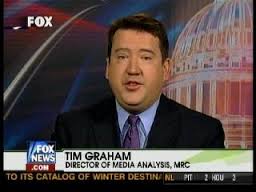 As he is wont to do, Media Research Center director of media analysis Tim Graham has had another transgender freakout.
In a March 23 NewsBusters post, Graham huffs:
People magazine exploited the "transgender journey" of 65-year-old Olympic legend Bruce Jenner, exaggerating a family split that seems to be more about his divorce than his gender confusion (although they're quite related, surely). This family is in television, so they can't afford to look "transphobic."

People felt compelled to announce it would acknowledge physical reality, but bow to political correctness: "In keeping with advice from experts, PEOPLE is taking its cues from Jenner's family in regard to the use of male pronouns." No one skeptical of "gender journeys" is allowed to speak.
Graham didn't explain why any article about Jenner's transgender journey must include someone trashing him. The haters can easily to to right-wing outlets like WorldNetDaily to get their fill of hate.
Later that day, Graham cranked out another transgender freakout:
Following in the footsteps of The New York Times Magazine in 2012 and Slate.com in 2013, the March 30 edition of Time is promoting the photographs of Lindsay Morris. The headline was "Happy Campers: Documenting a rural retreat for gender-creative kids." As opposed to most children, who are apparently "gender-stodgy."

Morris is coming out with a book titled You Are You in which they call these children "gender-unique." The book blurb says through "sensitive images the viewer will experience an important moment in history where the first gender-creative childhood is being openly expressed with the support of friends and family. Morris reaches beyond the confines of the camp to contribute to a dialog about the crucial role that support plays in the lives of gender unique children."
Of course, applying the "gender-stodgy" label to Graham would be redundant since he more accurately fits under a different one: transphobic.
In an apparent bid to balance his hate, Graham engaged in a Twitter hissy fit over Expedia featuring a same-sex couple in a promotion giving away a "romantic getaway to Great Britain." Graham sneered, "Gay romance 'promoted by Expedia,' all right."
The anti-gay agenda of Graham and the MRC is so kneejerk that they run the risk of nobody paying attention as they slide further to the wrong side of history.
Posted by Terry K. at 6:48 PM EDT