'Dancing With The Stars' Is Bigger News At CNS Than GOP Congressman's Resignation Over Corruption
Topic: CNSNews.com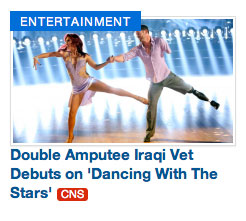 Rep. Aaron Schock was a rising star in Republican circles, and CNSNews.com had no problem promoting him. Last September, for instances, CNS devoted original articles to Schock pontificating about how Christians are "in the majority" in the U.S. and that President Obama does not need congressional authorization to take military action against ISIL. In November, CNS penned an article on Schock attacking Obamacare.
Schock resigned his congressional seat over questions about his lavish spending, but CNS is not terribly interested in reporting it. So much so, in fact, that it does not even consider the event to be front-page news.
A screenshot of the top of CNS' front page taken at around 6:30 p.m. ET on March 17 -- a couple hours after Schock's resignation -- shows that a breaking-news banner was devoted to the Israeli election but no mention of Schock's resignation. There is, however, an article about the new season of "Dancing with the Stars." So, apparently, CNS considers a TV show about dancing celebrities to be more important than a congressman's resignation.
Another screenshot of the front page taken around 10 a.m. ET March 18 shows a breaking-news banner for an attack on a museum in Tunisia -- but, again, no Schock. The "Dancing With the Stars" article has fallen off the list, but this update, like the earlier one, includes the latest rant from dishonest anti-abortion extremist Lila Rose.
CNS subscribes to the Associated Press, and it did publish an AP article on Schock's resignation on March 17 -- it simply did not think the story warranted front-page coverage. But unless you burrow way down into CNS' Washington page, you won't find it.
The only original coverage of Schock's resignation to be found on any MRC website is a post on the MRCTV blog.
It seems that CNS will report on Republican members of Congress only if they are feeding the agenda of CNS and its parent, the Media Research Center. And if you are corrupt and have to resign because of it, CNS will cover it up to preserve the Republican brand.
Posted by Terry K. at 11:08 AM EDT