MRC's Graham Twists Evidence To Perpetuate 'Liberal Media' Conspiracy
Topic: Media Research Center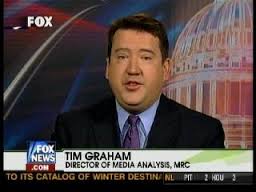 Here's the genius of the Media Research Center's anti-media agenda: Any evidence that disproves their claims of "liberal bias" can be portrayed as evidence of bias.
On March 8, the MRC's Tim Graham helped feed right-wing speculation that the New York Times deliberately cropped former President George W. Bush and his wife out of a photo of a march in Selma, Alabama.
This manufactured outrage was enough for Times public editor Margaret Sullivan to investigate. Her finding: The Times itself never cropped the photo; the photographer stated that in the photo he took, "Bush is super-overexposed because he was in the sun and Obama and the others are in the shade" and that the photo is a bad photo technically.
How did Graham respond to this reasoned investigation? By reframing it as more evidence of the conspiracy:
The paper didn't alter a photograph. But the Bushes were "cropped" out – metaphorically. Their presence didn't have "impact."

[...]

Obviously, conservatives disagree there's "no evidence of politics" here. Announcing the photo the Times used "has impact" is code for "makes Obama look good on a notable day in U.S. racial history."

By contrast, consider the Times on January 12, 2015. They had two large color photos with "impact" on the front page from the unity march after the Charlie Hedbo murders by Islamists. Obviously, there was no Obama in that picture to "crop" out. But the front-page news account by Liz Alderman never used the name "Obama" and waited to mention Attorney General Eric Holder being in Paris until paragraph eight.

In fact, a review of front pages from that Monday through Friday showed no focus on Obama on the Times front page that week. This story ended up on page A-12: "White House Acknowledges Error in Not Sending a Top Official to March in Paris."

Everything the Times decides is "news" seems very carefully reviewed for its "impact" on Obama.
See? Lack of proof of any actual cropping becomes proof of "metaphorical" cropping. Any evidence that disproves Graham's conspiracy can be twisted to mean the opposite.
Even if the Times had run that bad photo with the Bushes in it, Graham would have, in all likelihood, complained that the Times ran a poor image of the Bushes to make them look bad.
The Times just can't win -- which, presumably, is the way Graham and the MRC like it.
Posted by Terry K. at 11:58 AM EDT
Updated: Tuesday, March 10, 2015 11:59 AM EDT