MRC Rushes To Defend Ben Carson Over His Anti-Gay Comments
Topic: Media Research Center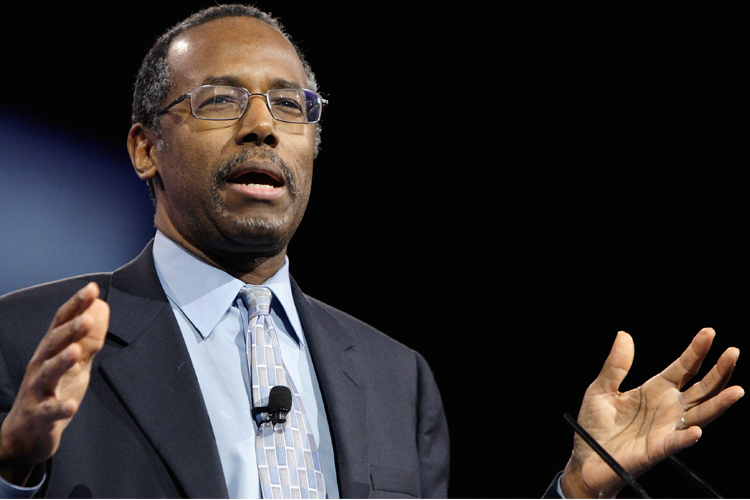 The Media Research Center's philosophy: If a journalist dares to question a conservative about his views, you are clearly a liberal or, even worse, an "activist."
The headline on Matthew Balan's March 4 NewsBusters post sums up that philosophy nicely: "LGBT Activist in CNN Anchor's Clothing Cuomo Hounds Carson on Marriage." Balan is appalled that CNN host Chris Cuomo would dare to question conservative darling Ben Carson about his views on homosexuality:
On Wednesday's New Day, CNN's Chris Cuomo likened traditional marriage legislation to legalizing slavery as he interviewed Dr. Ben Carson. When the conservative personality suggested, on the issue of same-sex "marriage," that "civil issues of that nature should be determined at the state level," Cuomo retorted, "What if people of a state vote for a law...that winds up infringing on the rights of a minority – like happened very often with slavery; like, many would argue, is happening now with people who are gay?"

The anchor acted as a left-wing activist on the subject, as he has done in the past, as he and Dr. Carson sparred for the remainder of the interview segment:
Balan buried Carson's bizarre claim that being gay is a choice because "a lot of people who go into prison – go into prison straight – and when they come out, they're gay."
Apparently, Balan believes any claim made by a conservative is never to be challenged by the media.
When Carson's claim proved to be too toxic for even him to defend, he walked it back in a Facebook post.
But that's not the lead of Kristine Marsh's March 5 NewsBusters post. Instead, Marsh helps Carson play the victim by hyping his assertion -- made to Sean Hannity, whom Carson knows will never challenge his anti-gay views -- that CNN "prodded" him to answer a question about the nature of homosexuality, then "spun his comments."
Marsh simply pasted a screenshot of Carson's Facebook walkback of his comments, declining to comment on the complete nature of his capitulation. Carson also declared he supports civil unions for gays and anti-discrimination laws that cover gays -- both positions that right-wingers like the MRC abhor.
LGBT writers have questioned the sincerity of Carson's apology given his victim-playing on Hannity's radio show. But Marsh didn't mention that, either.
Posted by Terry K. at 7:37 PM EST