CNS's Jeffrey Falsely Claims Lynch 'Advocated For Partial-Birth Abortion'
Topic: CNSNews.com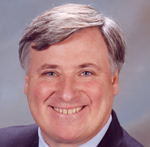 CNSNews.com editor in chief Terry Jeffrey writes in a Jan. 28 article:
Republican Sen. Lindsey Graham of South Carolina told attorney general nominee Loretta Lynch at a confirmation hearing today that the fact that, in support of Planned Parenthood, she had advocated for partial-birth abortion did not "disqualify" her from serving as attorney general of the United States.
But Lynch did not "advocate for partial-birth abortion," as Jeffrey himself concedes in his very next paragraphs:
"In 2006, you signed an amicus brief supporting Planned Parenthood's opposition to partial-birth abortion ban; is that correct?" said Graham at Lynch's confirmation hearing in the Senate Judiciary Committee.

"Yes," said Lynch, "I was one of a number of former Department of Justice officials [who signed it]."

"Although, the amicus brief that we signed was focused on the issue of the facial issues of the law, and how it might impact the perception of law enforcement's discretion and independence," she said.
Signing onto an amicus brief opposing a law banning "partial-birth abortion" does not equal "advocating" for the practice. And it's clear she was discussing issues of the law, not defending the practice.
Jeffrey does not provide a link to the amicus brief in question so his readers can see for themselves what, exactly, she supposedly was "advocating."
In other words, Jeffrey is lying about Lynch. Is that something the editor of a self-proclaimed news organization should be doing?
Posted by Terry K. at 10:56 AM EST