MRC Thinks Joy Behar Is A 'Journalist'
Topic: Media Research Center
In a Jan. 19 Media Research Center item headlined "Journalists Thrilled By All of Obama's State of the Union Speeches," Rich Noyes makes no effort to discern between commentators allowed to express opinions and regular journalists, and he plucks the words of those journalists out of context to hide the fact that many of them simply appear to be making objective observations about Obama's speeches instead of the endorsements Noyes claims they are.
And then there's this section: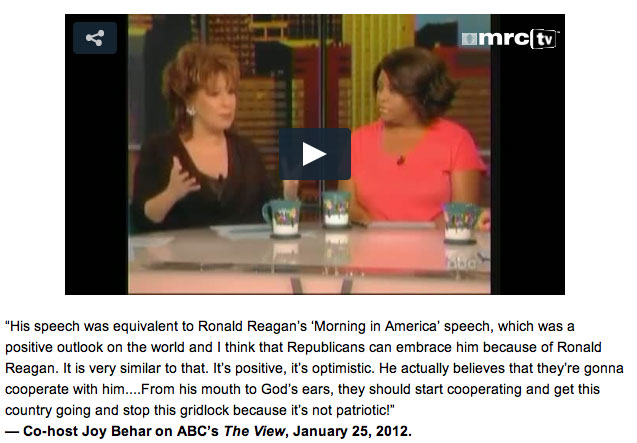 That's right -- Noyes is portraying Joy Behar, a former co-host of the decidedly not-journalism show "The View," as a "journalist."
Mind you, Noyes is the MRC's research director. But it's "research" like this that keeps the MRC from being taken seriously as a legitimate research organization -- it's too enslaved to its right-wing agenda for that.
Posted by Terry K. at 12:45 PM EST