CNS Loved Greitens' Violent RINO-Hunting Ad
Topic: CNSNews.com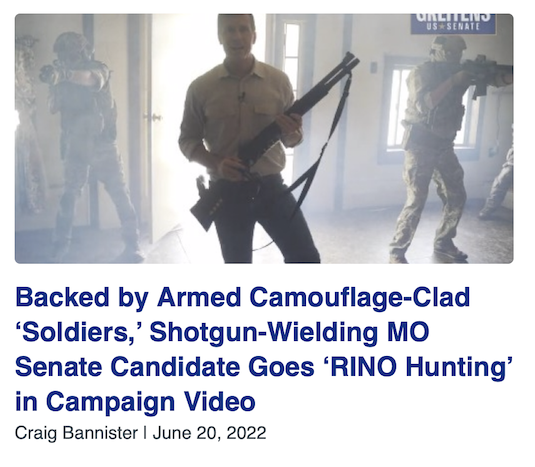 Craig Bannister lovingly and uncritically wrote in a June 20 article:
Sporting a shotgun and backed by armed, camouflage-clad "soldiers," Missouri Republican Senate candidate Eric Greitens, a former Navy Seal and Missouri governor, invites viewers to get a "RINO hunting" permit in a new campaign video.

"We are sick and tired of the Republicans in Name Only surrendering to Joe Biden & the radical Left. Order your RINO Hunting Permit today!" a Monday post on Greitens' Twitter page says, introducing the video.

"I'm Eric Greitens, Navy SEAL - and, today, we're going RINO hunting," he says, cocking his weapon, at the opening of the video.

The RINO [Republican In Name Only] feeds on corruption and is marked by the stripes of cowardice," Greitens says, as a team of rifle-wielding soldiers break down a door and throw a smoke bomb into a building, which they enter, posed to fire.

"Join the MAGA crew: get a RINO hunting permit," Greitens invites viewers. "There's no bagging limit, no tagging limit – and, it doesn't expire until we save our country."

"GET YOURS TODAY AT WWW.ERICGREITENS.COM," the graphic at the end of the video says.

The video describes Greitens as a "conservative," "outsider," and "Navy SEAL."
Bannister was apparently so enamored with the ad that he did not question how Greitens could plausibly portray himself as an "outsider" when he was once the governor of Missouri. That's because Bannister censored Greitens' sordid history. As we noted when CNS' Media Reserach Center siblings had trouble unequiovocally criticizing the ad, Greitens was forced to resign as governor because of campaign finance shenanigans and, more disturbing, an abusive sexual affair with shades of blackmail. Earlier this year, Greitens' ex-wife came forward with new accusations of domestic abuse against him -- something that caused even Newsmax to back off him.
It wasn't until the end of the article that Bannister expressed some level of concern about Greiten's violent imagery -- ironically, by citing an ad from a different right-wing extremist whom CNS also loves:
In 2020, during her successful run for Congress, Rep. Marjorie Taylor Greene (R-Georgia) riled liberal media and politicians by releasing a less-menacing campaign video, in which held a semi-automatic rifle while warning ANTIFA terrorists to "Stay the hell out of northwest Georgia."

"You won't burn our churches, loot our businesses or destroy our homes," Greene said in her video.

But, while Greene was issuing a warning to terrorists, Greitens' video portrays hunting – of fellow Republicans.
Still, Bannister refused to criticize the ad. That arguably suggests that he's cool with the violent imagery against people over relatively minor political differences.
Posted by Terry K. at 2:49 PM EDT