MRC Sports Blogger Spouts Transphobia All Through Pride Month
Topic: Media Research Center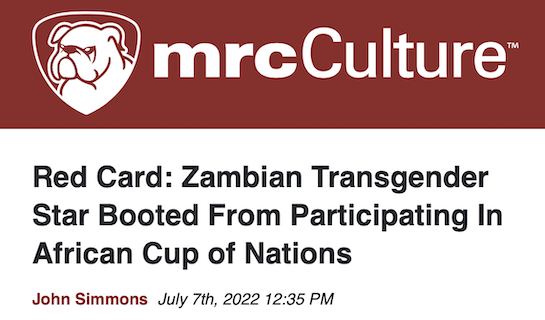 We've noted how Media Research Center sports blogger John Simmons had a meltdown over sports teams and leagues refusing to hate gay people as much ashe does during Pride Month in June. Simmons also brought his transphobia to the month's proceedings as well. In a June 14 post, he hyped a poll claiming that many Americans oppose transgender women in sports:
In the midst of the Pride Month celebration of all things LGBT, it can be easy to think that most Americans are perfectly okay with how this ideology has affected every aspect of American life.

However, a new Washington Post-University of Maryland poll showed that a strong majority of Americans still have a strong measure of common sense on the issue of transgendered women playing sports alongside real women. As per the poll that sampled1,503 Americans across the country, 55 percent of respondents said they were opposed to transgendered females playing in the same sport in high school, with that number increasing to 58 percent for college and professional sports.

[...]

We can only hope that more Americans begin to see just how harmful this ideology is and do everything they can to stem the tide of its effects.
Simmons never explains why he calls being transgender an "ideology." Does he think his homophobia and transphobia is an "ideology" too?
Simmons kept up the MRC's hatred of Lia Thomas in a June 20 post:
Lia Thomas' dream of swimming in the Olympics was spectacularly dashed after a ruling from the Fédération Internationale de Natation (FINA, translated "International Swimming Federation") that became effective today.

The ruling states that anyone who is born male must have their transition completed by the age of 12 to be able to compete in elite swimming competitions. Of the 152 members of FINA, a 71 percent majority passed the new legislation.

[...]

While we will not have to deal with a man swimming and taking away gold medals from females, it does not mean that transgendered females will be completely prevented from the Olympic stage ever again.

As best-selling children's author Matt Walsh pointed out, it just meant that people will start transitioning their children at a younger age.
Walsh is actually an even more virulent homophobe and transhobe than Simmons, so it discredits Simmons to cite him as an authority.
Simmons whined ina June 20 post that international women's soccer may consider allowing transgender athletes, while also taking a misogynistic shot (as he's wont to do) at women's soccer: "Not many people watch women's soccer to begin with, but the few who do might end up seeing men pretending to be women in the sports soon." The next day, he cheered a women's rugby league for banning transgender women; when women's soccer legend Megan Rapinoe criticized the move, Simmons huffed in response:
Sorry Rapinoe, but it's not disgusting to look at what Lia Thomas is doing in swimming and think that something needs to change. It's not cruel to see Connecticut high school track star Chelsea Mitchell lose to transgender opponents and want something to be changed. And it certainly isn't wrong for FINA and IRL decide that the future of women in their respective sports leans heavily on what they do in this pivotal moment.

Women belong competing with women, and men belong battling against men in sports. It's that simple.
If your desire to ban transgender women is borne of irrational fear and hate, as it appears Simmons' desire is, then it can plausibly be labeled disgusting.
Meanwhile, Simmons found a new transgender athlete to spew hate at in a June 28 post:
Yet another transgendered "female" has seized opportunities for real women to succeed at elite levels within their respective sport.

Richard Batres, who started taking hormone treatments and who is now going by the name Ricci Tres, skated in the Boardr Open competition in New York City on Saturday. Bartes, who is 29 and at least 13 years older than four of the other top-six finishers at the event, won the $500 grand prize at the event.

Because of his delusions, Batres has told his three children from his failed marriage that they are starting to refer to him as "mother," and he has taken hormone treatments so he can feel like a woman, even though he says he knows he will never be one.

"I've decided that I like being pretty and cute," Batres said. "I know I will never be a woman, because women are miraculous, they have babies and create life and do all that awesome stuff. I'll never have that ability but I feel like I am a woman. I would have wished to be born one so I'll try to fill that image as much as I can for myself and that pretty much involves being as cute as can be."

But trying to "fill that image" is going to have horrendous consequences, for Batres' family and women's skateboarding. First, three children will not only have to live without their real mother being a steady, everyday presence in their lives, but now they have to witness their father base his life on the idea that he can change his gender because he wants.

Additionally, Ricci will now likely keep robbing women from earning results that their hard work deserves, just because they have to compete against someone who's biology gives him an inherent advantage.
Simmons' transphobia extended into the following month as well. In a July 7 post, he falsely portrayed Zambian soccer star Barbra Banda as transgender, misgendered her throught the piece, and whooped that she was banned from a championship tournament for allegedly having too high of a testosterone level:
Yes, you read that right. A woman can't play women's soccer because she - actually, he - has too many male chemicals in his system.

Banda would have had to take hormone suppressors as prescribed by the Confederation of African Football (CAF), in order to be eligible for the roster but refused, rendering him unable to participate in the tournament.

[...]

[Zambia Football Association spokesperson Sydney] Mungala and her colleagues can cry all they want, but there is a much simpler solution for this problem: don't let men join your soccer teams.
In fact, Banda is a biological woman as far as anyone knows but has naturally high testosterone, and she has had no problem playing in other tournaments.
Posted by Terry K. at 10:10 PM EDT