WND Gloats That Fauci Caught COVID
Topic: WorldNetDaily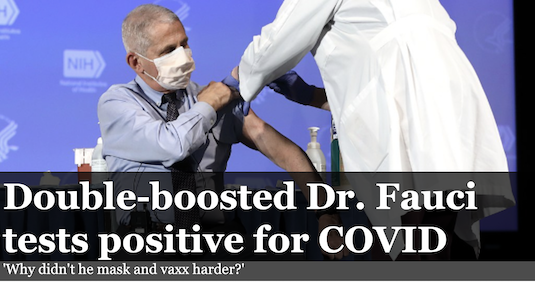 When Anthony Fauci caught COVID in June, WorldNetDaily -- a sworn enemy of Fauci, particularly columnist Joel Hirschhorn -- was quick to gloat. A June 15 article by Art Moore made a point of noting that Fauci had been vaccinated and double-boosted to sugges the purported lack of efficacy of the vaccines, then turned to a right-wing reporter for further attacks:
Investigative reporter Daniel Horowitz noted the news came as an FDA panel recommended the COVID-19 vaccine for children as young as 6 months.

"Literally as Fauci gets covid after 4 of these shots," he tweeted. "If we had a sane party representing the Nuremberg Code, red state legislatures would convene in an emergency session and ban the shots."

Tyler Carditis, CEO of Blaze Media, tweeted a one-liner alluding to the the theory that the virus that causes COVID-19 was engineered through the gain-of-function research at the Wuhan Institute of Virology funded by Fauci's NIAID.

"SARS-CoV-2 has finally met its maker," he deadpanned.
Moore concluded his article by reprinting selective hateful -- and anonymous -- "reactions on social media."
When Fauci reported that he tested positive again despite taking a course of the treatment Paxlovid, Moore framed it as him getting "sicker" in a June 29 article:
President Biden and Dr. Anthony Fauci have touted the Pfizer drug Paxlovid as an effective treatment for COVID-19.

But Fauci, the federal government's top infectious disease official, said Tuesday he experienced a rebound of COVID symptoms after he was treated with the drug, DailyMail.com reported.

In fact, Pfizer's own trial data showed the drug may not be effective for people who have received a COVID vaccine. Fauci has been "double-boosted," meaning he has received four doses of the experimental mRNA vaccine. And in May, the Centers for Disease Control issued a formal warning that a course of Paxlovid could produce a rebound of COVID-19.

Fauci, who tested positive for COVID earlier this month, was speaking remotely at the Foreign Policy Global Health Forum.

As is typical of the omicron variants of the SARS-CoV-2 virus that are currently prevalent, Fauci had mostly mild symptoms, including fatigue. But he said that when his symptoms became slightly worse, he began a five-day course of Paxlovid.
You know what else kept Fauci's symptoms mild: Being vaccinated and double-boosted. Moore didn't report that, though. He also didn't report that rebound symptoms also happen in those who weren't treated with Paxlovid.Moore then attacked the vaccine as infeffective:
At the launch of the vaccines, Fauci, other health officials, pharmaceutical companies and media declared the coronavirus shots to be virtually 100% effective in preventing symptomatic COVID-19 then gradually lowered their estimations to as low as 20% after only six months.

Fauci is seen in a media interview touting the vaccines as "virtually 100% efficacious" and stating in congressional testimony that the "real world effectiveness is even more impressive than the results of the clinical trial."

Moderna boasted its vaccine was 100% effective in teenagers. Pfizer said its vaccine was 100% effective in preventing COVID infections. In other statements, the shots were declared to provide 100% protection against severe disease, hospitalization and death.

However, by October 2021, a study of real world data showed Pfizer's COVID vaccine was only 20% effective against infection after six months.
Moore didn't mention that the main reason the vaccine saw decreased protection against infection against infection was because the Delta and Omicron variants are much more contagious and mutated in a way that evade the vaccine's original defenses against infection.
This is just another reminder that Moore is a highly dishonest reporter.
Posted by Terry K. at 4:46 PM EDT