MRC Slowly Backs Away From Musk After He Backs Out Of Twitter Deal
Topic: Media Research Center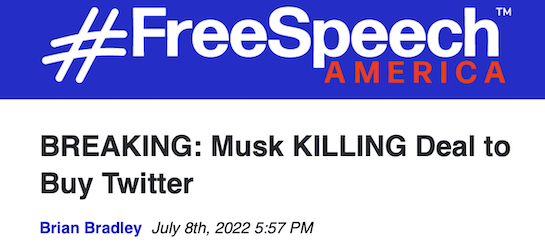 When last we checked in on the Media Research Center's hero worship of Elon Musk, it was still cheering his apparent all-but-done deal to buy Twitter and fawning over every pearl of alleged wisdom that tumbled out of his mouth. Cracks were beginning to show over the Twitter deal, though; a June 28 post by Autumn Johnson noted that "Tesla CEO Elon Musk reportedly told Twitter he needs more raw data from Twitter to determine the number of bot accounts on the platform." On July 6, though, Jeffrey Clark gushed that Musk "mocked Twitter's out-of-control censorship in an American Revolution-themed post on Independence Day," before going on to complain that right-wing self-help guru Jordan Peterson for a transphobic tweet about actor Elliot Page (though, as per MRC style, he didn't explain why Twitter does not have the right to enforce its terms of service on its users).
When Musk pulled out of the deal to buy Twitter on July 8, Brian Bradley wrote what was effectively a press release for Musk:
Twitter refused to provide information on its fake or spam accounts, so Elon Musk is canceling his plan to buy the platform, according to a letter sent by Musk's legal team to Twitter.

Musk asked Twitter CEO Parag Agrawal to show evidence of Twitter's claim that less than 5 percent of its accounts are fake or spam accounts before following through with purchasing the platform, according to a May 17 tweet. Musk said he believed that 20 percent of platform accounts were fake or spam.

Information on Twitter's fake or spam accounts "is fundamental to Twitter's business and financial performance and is necessary to consummate the transactions contemplated by the Merger Agreement because it is needed to ensure Twitter's satisfaction of the conditions to closing, to facilitate Mr. Musk's financing and financial planning for the transaction, and to engage in transition planning for the business," the letter from Musk's legal team says. "Twitter has failed or refused to provide this information."
That's it -- Bradley made no effort to tell Twitter's side of the story and simply assumed that whatever Musk said was correct.
Meanwhile, Musk's life outside Twitter was getting messy: one of his children changed gender identity and sought a name change because "I no longer live with or wish to be related to my biological father in any way, shape or form" (how terrible of a father do you have to be when you're among the world's richest people and one of your own children wants to sever ties with you?), and he got into a war with the MRC's beloved Donald Trump; Musk said it was time for Trump to "hang up his hat & sail into the sunset" and denied ever voting for him, to which Trump responded by calling him "another bullshit artist" who begged for government subsidies from him while he was president. He also didn't respond to his mother tweeting him happy birthday.
The MRC was silent on those things; when it was revealed that Musk has yet another baby mama -- fathering twins with an executive of one of the companies he owns -- it did grudgingly weigh in on that. Tierin-Rose Mandelburg complained in a July 11 post that "Former View Host Meghan McCain just low key put Elon Musk and Nick Cannon on blast in her op-ed for the Daily Mail, calling their baby making plans 'dystopian.'" (Cannon has eight children by five women.) The MRC used to look down on such immoral behavior; instead, Mandelburg cheered it by insisting that the situation "wasn't as creepy as McCain pointed out" and, hey, at least they didn't cause any abortions (that we know of): "People should get pregnant if and when they're ready to, but you have to give Musk and Cannon credit too. In a world that has celebrated the slaughter of the unborn so publicly as of late, at least these celebrities support new birth!"
Meanwhile, things were percolating on the Twitter front as well. Twitter quickly assembled a legal team to decide how to respond to Musk's attempt to terminate the deal, and on July 13, the company sued Musk to force him to complete the deal. Oddly, that didn't draw a response from the MRC. It wasn't until Musk made plans to counter-sue -- and after it was reported that Musk had an affair with the wife of Google co-founder Sergey Brin -- that Catherine Salgado devoted a July 19 post to the legal aspect, which heavily relied on the right-wing New York Post for its information.
The MRC didn't address the issue again until a July 27 post by Johnson noting that "Twitter has scheduled a shareholder vote after Musk announced he wanted to pull out of his deal to buy the company," which copied-and-pasted from Bradley's earlier PR piece to fill it out.
It sure seems like Musk's luster has dimmed from the MRC now that he's trying to back out of his Twitter deal and his personal life becomes a mess in ways that the MRC's usual moral scolds can't quite tolerate.
Meanwhile, the MRC's "news" division, CNSNews.com, appears to be keeping up its hero worship for now. A July 27 article by Patrick Goodenough touted how Musk, who also runs SpaceX (where he fired employees who criticized him, casting doubt on his purported support of free speech), "offered a two-word response" -- "bon voyage" -- "to Russia's reported plans to exit the International Space Station."
Posted by Terry K. at 9:01 PM EDT
Updated: Monday, August 1, 2022 9:16 PM EDT