MRC Keeps Acting As Elon Musk's PR Firm
Topic: Media Research Center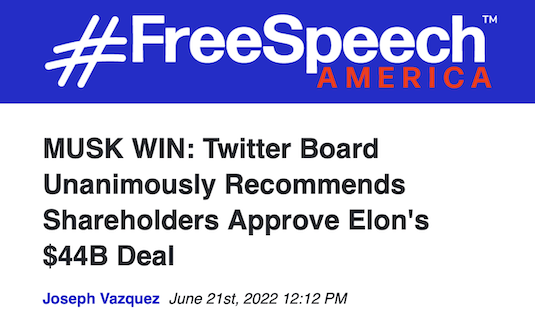 Because Elon Musk has started spouting right-wing talking points and is trying to buy Twitter, the Media Research Center has deemed him an expert on everything. Autumn Johnson was mad that President Biden wouldn't take economic advice from Musk in a June 3 post:
President Joe Biden seemingly dismissed Elon Musk's concerns that the economy was headed for a downturn.

When asked about Musk's comments, Biden dismissively responded to the Tesla CEO's economic concerns:

"While Elon Musk is talking about that, Ford is increasing their investment overwhelmingly," Biden said according to Reuters. "Ford is increasing investment and building new electric vehicles. Six thousand new employees, union employees I might add, in the Midwest."

Biden then wished Musk "lots of luck on his trip to the moon."

[...]

The comments from the president came after Musk wrote in a company email that he had a "super bad feeling" about the U.S. economy.

Reuters reported that Musk told employees that ten percent of salaried jobs at Tesla would be cut in response to a downturn in the economy.
Johnson didn't mention that Musk committed to buying Twitter at the top of a bull market at an inflated price, which puts his economic judgment into question.
Speaking of which, Johnson cheered the next day that Musk's Twitter deal "just avoided a lengthy review period" with the federal government declining to do an antitrust review of the deal. She also served as a Musk PR person by hyping Musk's alleged concerns about the number of bot accounts on Twitter. That is apparently going tobe Musk's -- and, thus the MRC's -- narrative as a way for him to weasel out of the deal, as Alexander Hall enthused in a June 6 post:
As Tesla CEO and free speech advocate Elon Musk has fought to acquire Twitter, he demanded the platform reveal how many of its users may be spam or fake accounts. His legal team accused the platform of deliberately hiding information amid Musk's investigation.

Musk's attorneys blasted Twitter leadership in a June 6 letter to Twitter Chief Legal Officer Vijaya Gadde. "Twitter has, in fact, refused to provide the information that Mr. Musk has repeatedly requested since May 9, 2022 to facilitate his evaluation of spam and fake accounts on the company's platform," says the letter, which was posted on the Securities and Exchange Commission website.
"[Musk] does not believe the company's lax testing methodologies are adequate so he must conduct his own analysis," the letter noted "The data he has requested is necessary to do so." The letter explained that Musk "believes the company is actively resisting and thwarting his information rights (and the company's corresponding obligations) under the merger agreement."
Jeffrey Clark gushed even harder over a Musk opinion in another June 6 post:
Tesla CEO Elon Musk warned of "population collapse" in China as a result of tyrannical government policies that devalue human life.

"Most people still think China has a one-child policy," Musk said in a June 6 tweet. "China had its lowest birthdate ever last year, despite having a three-child policy! At current birth rates, China will lose ~40% of people every generation! Population collapse," Musk tweeted in response to a article headlined "Could China's population start falling?"
Clark didn't mention the inconvenient fact that just a few months earlier, the MRC was criticizing Musk for his cozy ties to China, which it memory-holed once he started spouting right-wing talking points and got interested in buying Twitter. There was also no mention of the fact that Musk is so dependent on China for materials used in making Teslas that his purchase of Twitter raises national security questions regarding privacy of user data, since China could use Tesla's dependence on Chinese materials to force Musk to give it information on users who are critical of China.
But who cares about facts when there are right-wing narrataives to advance? Which is why Johnson spent a June 9 post hyping how "A new story suggested on Wednesday that Twitter agreed to provide Elon Musk with raw data concerning the platform's bot accounts." And a June 17 post by Clark touted Musk's purported commitment to free speech:
Tesla CEO Elon Musk defended free speech online and fielded questions from Twitter employees, according to a leaked video call.

"You can communicate with millions of people on Twitter. That's just an incredibly important thing," Musk told Twitter staff during a June 16 all-employee call. "I think it's essential to have free speech and to be able to communicate freely."

[...]

Twitter Chief Marketing Officer Leslie Berland asked Musk about "content moderation," a leftist euphemism for censorship, during the call.

"The standard is much more than not offending people," he added. "The standard is — should be — that [Twitter users] are very entertained and informed."
But a few hours before Clark's post was made live, Musk demonstrated his real feelings about free speech when he fired SpaceX employees who criticized him. Clark made no mention of that in his post.
Cathierine Salgado hyped another Musk pearl of wisdom in a June 20 post:
"Is TikTok destroying civilization?" Elon Musk tweeted June 17. "Or perhaps social media in general." Hyperbole? Perhaps, but maybe not considering new revelations about TikTok's reported data sharing with China.

BuzzFeed News reported the same day as Musk's tweet that it reviewed tapes of TikTok employees making statements that indicate its parent company, Chinese Communist Party (CCP)-tied ByteDance, accessed non-public U.S. user data from TikTok. "Everything is seen in China," one member of TikTok's Trust and Safety department said during a September 2021 meeting, according to BuzzFeed.
As we've noted, the MRC has been parroting attacks on TikTok that were apparently fed to it by Facebook through a Republican consulting firm. Salgado made no mention of that. But then, for the MRC, it's all about helping Musk win, and JosephVazquez literally invoked that in a June 21 post headlined "MUSK WIN":
Twitter's Board of Directors told the platform's shareholders to accept the world's richest man's $44 billion takeover deal, according to a new government filing.

The filing specifically told shareholders that it "unanimously recommends that you vote" for "the adoption of the merger agreement" with Tesla CEO Elon Musk. Musk reportedly "listed the approval of the deal by shareholders as one of several 'unresolved matters' related to the Twitter deal" during an interview at the Qatar Economic Forum. The document also stated that the board "unanimously" agreed that "the merger agreement is advisable and the merger and the other transactions contemplated by the merger agreement are fair to, advisable and in the best interests of Twitter and its stockholders; and (2) adopted and approved the merger agreement, the merger and the other transactions contemplated by the merger agreement."

[...]

With Musk seeming apparently ready to take over the platform and make crucial changes to its bloated censorship apparatus, it looks as if Silicon Valley oligarchs may have finally lost one of its core vehicles to control online speech just before the 2022 midterm elections.
Vazquez also rehashed the MRC's attacks on social media over the Hunter Biden October surprise before the 2020 election, declaring that "A whopping 45 percent of Biden voters surveyed in a Media Research Center poll weren't aware of the Hunter Biden scandal in part because Big Tech censored it." Vazquez didn't mnention that this poll was conducted by The Polling Company, a Republican firm founded by Trump adviser Kellyanne Conway, making its independence and reliability highly suspicious.
Posted by Terry K. at 6:03 PM EDT
Updated: Sunday, July 10, 2022 6:10 PM EDT