Fake News: WND Blames COVID Vaccine For Sudden Adult Deaths
Topic: WorldNetDaily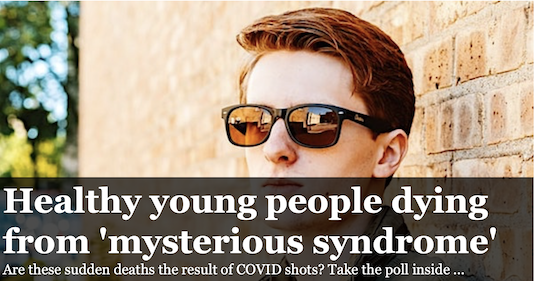 WorldNetDaily COVID misinformer extraordinaire Art Moore is at it again in a June 8 article:
A report that healthy young people are dying suddenly and unexpectedly from a mysterious syndrome has caught the eye of epidemiologists and analysts who have documented an alarming rise in excess deaths they believe is connected to the COVID-19 vaccines.

DailyMail.com reported Wednesday that in Australia, where some 95% of the population has been vaccinated for COVID-19, people under the age of 40 are being urged get their hearts checked because they may be at risk of what is being called Sudden Adult Death Syndrome, or SADS.

t's an "umbrella term to describe unexpected deaths in young people," according to the Royal Australian College of General Practitioners, and it occurs in people who are otherwise healthy.

There's a U.S.-based SADS Foundation that has recorded this phenomenon for many years. And it isn't new to Australia.

But the question is why a syndrome that few people have ever heard of is being spotlighted by health officials and why young people are being urged to get a heart exam.
Moore then cited one of his favorite fellow COVID misinformers:
Dr. Peter McCullough, a world renowned cardiologist and a leading critic of the mRNA vaccines, wrote Wednesday on the website America Out Loud that because "so many physicians were duped into the taking one of the COVID-19 vaccines, they are having a hard time coming to terms with the reality that their patients are developing complications that indeed a physician could develop, including well-recognized problems such as myocarditis, blood clots, bleeding, and skin rashes and immune system problems."

"The most worrisome of all complications is death after vaccination," he wrote.
As we've come to expect from WND's COVID coverage, this story is bogus. An Australian fact-checker documented:
Some social media users have claimed "sudden adult death syndrome", a term describing abrupt death from cardiac arrest where no specific cause can be found, is a "new disease" emerging since the rollout of COVID-19 vaccines.

The claim is false. Sudden cardiac death – also known as sudden arrhythmic death syndrome (SADS) or sudden adult death syndrome – has been documented since the 1800s and the subject of medical research since at least the 1970s. There is no evidence to suggest any link between COVID-19 vaccines and SADS.
Another fact-checker documented:
As for the Daily Mail story that sparked the claims on social media, "There was some mis-reporting," Dr. Elizabeth Paratz — who was referenced in the story but wasn't contacted for comment — told us by email.

Although both the story and the headline claimed that Australia had a "new national register" for tracking SADS, it doesn't. That project was started in 2019 in the Australian state of Victoria.

[...]

There has been no increase in SADS since the COVID-19 vaccines became widely available in 2021, Paratz said.

Furthermore, she said, "There is no signal that any vaccine, including the COVID-19 vaccines, are behind SADS cases."

Paratz also noted that, although the Daily Mail referred to SADS as "Sudden Adult Death Syndrome," the "A" actually stands for arrhythmic, not adult.
So: Another fake-news story from a "news" story from an outlet that has published so many of them. Is anyone surprised?
Posted by Terry K. at 6:57 PM EDT