MRC Lashed Out At Beto O'Rourke For Channeling Anger Over Texas School Massacre
Topic: Media Research Center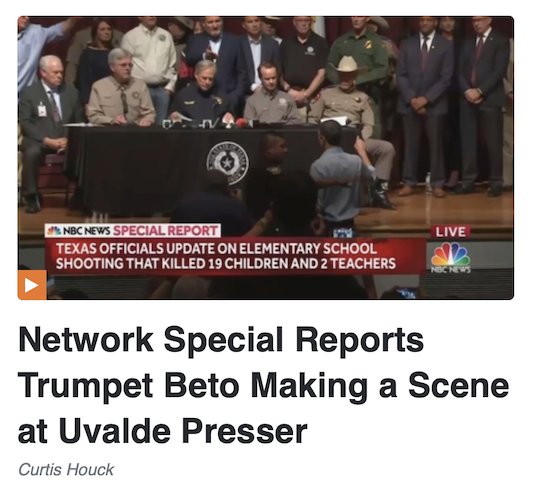 The Media Research Center went into kneejerk gun defense mode after the Texas school massacre. When Texas Democratic gubertnatorial candidate Beto O'Rourke confronted Republican Texas Gov. Greg Abbott and accurately pointed out that he was "doing nothing" to prevent further mass shootings, the MRC quickly pivoted to attack O'Rourke and anyone who noted the accuracy of his remarks. Alex Christy kicked off the whining:
After Texas Democratic gubernatorial nominee Beto O'Rourke made a fool of himself by selfishly interrupting the Wednesday press conference where Texas officials updated the public on the Uvalde school shooting, MSNBC's Katy Tur declared the officials were wrong, because it is partisan and Chuck Todd added Republicans should be aware that they live in a glass house.

Coming out of the press conference, Tur declared America doesn't care about murdered children, "It is not a good day to be with you. It cannot be a good day when we live in a country that shrugs its shoulders children as are being murdered."
Christy also claimed that "Tur also falsely added that AR-15s are designed for war." In fact, they were.
Curtis Houck nonsenically used O'Rourke's real first name in an attempt to dismiss him as a "failed presidential candidate":
Wednesday afternoon's press conference on the Uvalde, Texas school shooting descended into shenanigans during what should have been a solemn occasion to update the public on the investigation when Democratic gubernatorial candidate Robert O'Rourke heckled Governor Greg Abbott (R) and other elected officials, blaming them for the murder of 19 children and two teachers. Naturally, the broadcast networks refused to speak out against O'Rourke's antics and barely acknowledged O'Rourke's party ID.

[...]

To her credit, correspondent Janet Shamlian conceded that not only was O'Rourke's stunt "very clearly staged," but it was planned well in advance thanks to "two people across the aisle from me" who saved him seat so he only had to enter just prior to the start of the press conference.

[./..]

ABC also chose to not give [Lt. Gov. Dan] Patrick the light of day and instead followed O'Rourke's charade woutside. While carrying his remarks, ABC included a (D) in a chyron.
We don't recall Houck ever calling Ted Cruz by his real first name, Rafael.
Christy returned to whine that late-night TV hosts "praise[d] Beto O'Rourke's stunt in the push for gun control. P.J. Gladnick thought it was a big deal that a reporter admitted that O'Rourke's interrpution of Abbott was planned (as if that has never happened in politics) and also insisted on using his first name:
On Wednesday, just as a press conference about the tragic school shooting in Uvalde featuring Texas Governor Gregg Abbot was commencing, it was rudely interrupted by Democratic gubernatorial candidate Robert Francis O'Rourke who attempted to upstage the event. Was this a highly inappropriate political stunt by a losing candidate? Well, according to CBS reporter Janet Shamlian it was "very clearly staged" by the O'Rourke campaign.

[...]

As could be predicted, this case of honesty by a CBS reporter on what transpired at the press conference caused outrage by many on the left.
Michael Ippolito, meanwhile, melted down over Teen Vogue defending O'Rourke:
Following the horrific shooting in Uvalde, Texas, Governor Greg Abbott (R) held a press conference Wednesday that provided details about the deadly shooting. As important information was being discussed, Beto strode to the front of the audience and interrupted Governor Abbott bawling that the mass shooting was his fault.

He'd turned a grim press conference into political theater. Beto was escorted out of the conference, booed by parents and community members. To Teen Vogue, though, Beto is a hero.

[Writer Emma] Specter depicted Beto as the voice of an angry community. "It was cathartic to see O'Rourke express some fraction of the frustration and rage that people across the country are feeling in the wake of the shootings in Uvalde, Buffalo, Laguna Woods, and every other U.S. city that has become associated with a senseless and unimaginably traumatizing mass shooting," she wrote.

[...]

Teen Vogue is sensationalizing those who stand on massacred children.
Days after the incident, Clay Waters was still whining about O'Rourke in a June 5 post:
It looks like Democratic hopeful Beto O'Rourke's run to unseat Republican Gov. Greg Abbott will be greeted with the same partisan enthusiasm by the New York Times that it showed when O'Rourke failed to knock off conservative Sen. Ted Cruz despite massive out-of-state help in 2018.

Witness reporter Jazmine Ulloa's piece in Saturday's paper, "For Beto O'Rourke, Talk of Gun Control Has Become Both a Political Risk and Reward." Beto's grandstanding at a press conference now looks....good?
Waters went on to sneer, "His talk of confiscating your AR-15 doesn't sound so tone-deaf any more?" and denied that O'Rourke's anger was "resonating" in the state. On the other hand, if it wasn't resonating, the MRC would not have devoted so much time and space to repeatedly attacking him or anyone else who's just as angry about mass shootings as he is.
Posted by Terry K. at 11:36 PM EDT
Updated: Monday, July 4, 2022 11:31 AM EDT