MRC's Houck Hypocritically Lashes Out At Jean-Pierre Again Over 'Softball' Interview
Topic: Media Research Center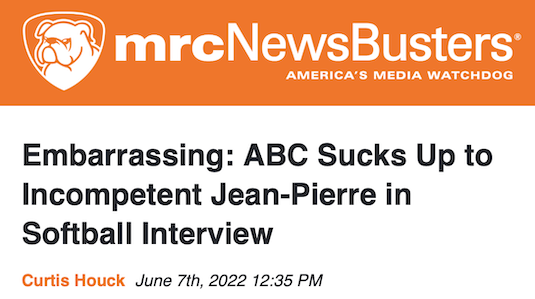 The Media Research Center's Curtis Houck has already staked out a narrative to depict new White House press secretary Karine Jean-Pierre as an incompetent diversity hire, and he pushes it again in a June 7 post in which he hypocritically lashed out at ABC for not trashing Jean-Pierre like he would:
ABC's Good Morning America has had a reputation of corporate whoring, liberal fluff, and superficial nonsense, so it made sense Tuesday as White House Press Secretary Karine Jean-Pierre appeared for a nine-minute-plus softball session with co-host Robin Roberts over the economy, "gun violence, abortion rights," "her trailblazing role," and what "representation means" to her.

Throughout an obscene six teases for the interview, co-host Robin Roberts boasted of how Jean-Pierre was "breaking barriers" and while lamenting all "the challenges" "facing President Biden." In other words, the skids were greased.
Needless to say, Houck offered no comparison with the greased skids Trump White House press secretaries like his beloved Kayleigh McEnany were given when they appeared on Fox News. And his attacks on ABC's alleged "corporate whoring" ring hollow as well given how the MRC whores out its "news" division to promote corporate initiatives. Houck continued to whine:
Roberts began with platitudes, gushing she had "been looking forward to having this opportunity especially today because with gun violence rising to the top of the agenda," adding that ABC was doing its part for the administration by having all its news shows focus on guns.

Lamenting that Jean-Pierre had to start her job with two high-profile shootings, Roberts put the ball on the tee: "[T]here's been no major federal gun control in nearly 30 years, so what is the President doing to change that? What can he do?"

Jean-Pierre has been prone to lack an ability to speak coherently without prepared notes, so her answer to a softball question meandered through nothingness for nearly two minutes with all Roberts being able to do was off another softball about Biden's involvement in Senate negotiations[.]
Houck has never criticized McEnany's binder of prepared notes, so he's being hypocritical yet again for nbashing Jean-Pierre over it.
Houck concluded by attacking Roberts for asking about Jean-Pierre's historical status and, again, for not hating her enough:
Roberts wrapped with fawning praise for Jean-Pierre as "[t]he first black, the first immigrant, the first openly gay person" with her job and an open ended question about "what does representation mean to you"[.]

[...]

And even the goodbye was gooey from Roberts: "Very kind of you to say. Well, Karine, thank you so much. I know that you have busy, busy days and means a lot you some spent time with us this morning. All the best to you."
If Houck really wants to criticize softball interviews, he should start with his own gooiness toward McEnany, in which he couldn't even question how she notoriously abandoned her job after the Capitol riot.
Posted by Terry K. at 2:50 PM EDT
Updated: Friday, July 1, 2022 2:51 PM EDT