MRC Hyped Colbert Staffers' Arrest -- But Censored Charges Being Dropped
Topic: Media Research Center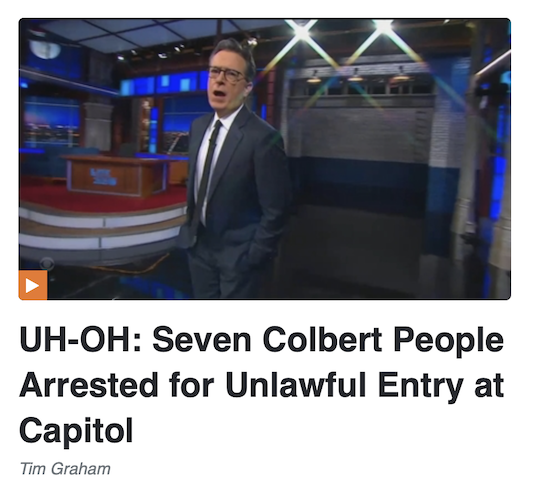 When several staffers for CBS' "The Late Show With Stephen Colbert" were arrested in June inside a congressional office building, the Media Research Center cranked up the hype machine. In the first post on the incident on June 18, Tim Graham immediately leapt to Capitol riot comparisons:
Fox News reported on Friday night the U.S. Capitol Police arrested a group of staffers with CBS's The Late Show With Stephen Colbert and were charged with unlawful entry after they allegedly illegally entered a House Office Building on Thursday night.

[...]

Remember that people who merely entered the Capitol on January 6 were charged with "parading" or "entering a restricted building" and some have served several weeks in jail.
Graham failed to mention the obvious fact that the Colbert staffers weren't part of a violent mob egged on by a president who refused to face reality that was aiming to overthrow the government and murder the vice president. Nevertheless, Graham whined in a separate tweet that "'CBS Saturday Morning' waited 20 minutes before noting Colbert staffers were arrested at the Capitol."
Scott Whitlock fleshed out Graham's tweet in a June 20 post complaining that CBS wasn't sufficiently covering this huge news story:
Seven staffers of far-left Late Show host Stephen Colbert were arrested last week at the Capitol for unlawful entry as they likely attempted to harass Republicans. Since the news broke late on Friday, an embarrassed CBS has allowed just 65 seconds total. All of it on CBS Saturday Morning. The network didn't return to the incident over the weekend or on Monday.

CBS Morning hosts Gayle King, Tony Dokoupil and Nate Burleson love to play clips of Colbert, but they allowed no recap on Monday. ABC allowed similarly skimpy coverage. Just 25 seconds on Saturday's Good Morning America. NBC has ignored it.

On CBS Saturday Morning, co-host Michelle Miller tried to soften the blow by making jokes, noting that one of the detained was Robert Smiegel, the man behind Triumph the Insult Comic [Dog]:

[...]

You can guess that Colbert will find some way to explain this all away. The vile host has compared Republicans to Nazis and suggested that half of the GOP agree with the mass shooting in Buffalo.
You can also guess that the MRC would throw a fit when Colbert did that. And that's exactly what Graham did in a June 21 post:
On Monday's Late Show, CBS host Stephen Colbert addressed the arrest of seven staffers filming after-hours in the Longworth House Office Building in his opening monologue. He made light of how they were committing "first-degree puppetry" and then blamed the sensitivity of the Capitol Police on "Putin's puppet" for causing the January 6 riots.

Colbert explained that after two full days of filming in congressional office buildings, "After they'd finished their interviews, [my staffers] were doing some last-minute puppetry and jokey make-em-ups in a hallway, when Triumph and my folks were approached and detained by Capitol Police." He didn't address Fox News reporting his team had been "escorted out of the Jan. 6 committee hearing earlier in the day because they did not have proper press credentials."

But he did mock Fox News this way: "The Capitol Police are much more cautious than they were, say, 18 months ago, and for a very good reason. If you don't know what that reason is, I know what news network you watch." The crowd laughed and roared.
Because they know that Fox News, like the MRC, is desperately trying to pretend the Capitol riot hearings aren't news?
Graham then huffed that it was "moral preening" for Colbert to call out people like him for likening his staffers' arrest to the Capitol riot, as Colbert pointed out that "drawing any equivalence between rioters storming our Capitol to prevent the counting of electoral ballots and a cigar-chomping toy dog, is a shameful and grotesque insult to the memory of everyone who died, and obscenely trivializes the service and the courage the Capitol Police showed on that terrible day." Graham put that part in boldface, so you know he was feeling quite seen by that.
Later that day, Kevin Tober devoted a post to Fox News stenography: "Less than twenty-four hours since pseudo comedian Stephen Colbert attempted to make light of his staff breaking into the United States Capitol building in a hypocritical attempt to film a 'comedy' skit attacking Republicans for the January 6 riots, Fox News host Tucker Carlson slammed Colbert for his hypocrisy."
All of that moral preening from the MRC, however, went for naught: On July 18, it was reported that all charges against the Colbert staffers were being dropped. It turns out they didn't forcibly break into the building, as the MRC suggested, but were let in by a congressional aide, which was legal; the only problem was that the aide didn't accompany the staffers during the entirety of their visit, which is required. The U.S. Attorney's Office for the District of Columbia said in a statement that "We do not believe it is probable that the Office would be able to obtain and sustain convictions on these charges."
You will not be surprised that no post by Graham or his underlings reporting on this development appears at NewsBusters. Nor was there anything at the MRC's "news" operation, CNSNews.com. The only mention we could find on any MRC website was a July 19 MRCTV post by Brtittany Hughes, who whined: "While a number of January 6 'insurrectionists' are still in D.C. jail awaiting trial, all charges have been dropped against a group of Hollywood leftists who were caught in June hanging out inside the U.S. Capitol after being told to leave." Like Graham, Hughes refused to acknowledge there is a difference between not having proper press credentials and being part of an insurrectionist mob.
Posted by Terry K. at 9:23 PM EDT