CNS Remains Hypocritically Obsessed With Logan Act
Topic: CNSNews.com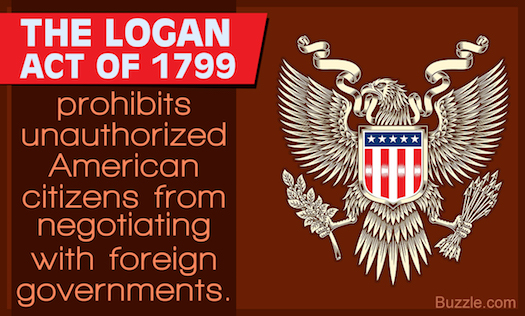 Last year, we documented how CNSNews.com promoted accusations from President Trump that former Secretary of State John Kerry violated the Logan Act -- a law that prohibits unauthorized American citizens for negotiating with foreign governments, under which nobody has ever been successfully prosecuted -- for communicating with the Iranian government, but pooh-poohing the Logan Act when ever-so-brief national security adviser Michael Flynn was accused of violating it in his communications with Russia before President Trump took office in 2017. That hypocrisy has continued.
A May 2019 article by Patrick Goodenough amplified Trump's assertion that Kerry violated the Logan Act and quoting current Secretary of State Mike Pompeo saying that he would "leave to the Department of Justice to make decisions about prosecutions." In a Feb. 18 article, Goodenough repeated that Kerry "met privately with the Iranian foreign minister on several occasions after he left office, prompting Trump to charge, more than once, that Kerry had violated the Logan Act." Goodenough even included a screenshot of the act, though he did note that "no-one has been convicted for violating the act."
The next day, Goodenough declared again that "President Trump on Wednesday accused Sen. Chris Murphy (D-Conn.) – and former Secretary of State John Kerry – of violating a two century-old law by holding meetings with Iranian Foreign Minister Javad Zarif," including once again a full description of the act, while also admitting that "Only two individuals have ever been charged under the act, both in the 19th century, and neither was convicted."
But when the discussion returned to Flynn, the Logan Act was portrayed as something sinister. Susan Jones wrote in an April 30 article:
General Michael Flynn's attorney Sidney Powell late Wednesday released handwritten notes, reportedly authored by then-FBI Counter-intelligence Director Bill Priestap, that show "abuse of...authority at every turn," as Flynn's attorney put it.

The note reads in part:

"What's our goal? Truth/Admission or to get him to lie, so we can prosecute him or get him fired? If we get him to admit to breaking the Logan Act, give facts to DOJ & have them decide. Or, if he initially lies, then we present him [redacted] & he admits it, document for DOJ, & let them decide how to address it."
Jones repeated the quote in two other articles that day, portraying the alleged attempt to get Flynn to admit violating the Logan Act as "entrapment."
On May 8, Melanie Arter uncritically quoted White House press secretary Kayleigh McEnany ranting about this: "Having found no evidence of Russian collusion, the FBI came up with a new, absurd theory that Flynn might have violated the Logan Act, a statute from 1799 that, in its 200 years of existence, had never been used to convict an American citizen, but it was resurrected in the case of lieutenant general Michael Flynn. Michael Flynn didn't violate the Logan Act." Jones returned on May 13 to quote Republican Sen. Lindsey Graham complaining that the Logan Act was discussed regarding Flynn.
Jones complained the next day that "Washington Post columnist David Ignatius reported that Flynn had called Russian ambassador to the U.S. Sergey Kislyak "several times on Dec. 29, the day the Obama administration announced the expulsion of 35 Russian officials as well as other measures in retaliation for the hacking." Ignatius mused on whether Flynn had violated the 'spirit' of the Logan Act." She went on to quote Republican Sen. Mike Lee declaring that "you've got what appears potentially to have been an effort by one administration to interfere with the next legitimately elected administration's ability to conduct foreign policy by threatening or at least investigating with an attempt perhaps to threaten -- a violation of the Logan Act of all things. This is simply stunning."
On May 14, Jones huffed that "Someone leaked Flynn's unmasked name to the Washington Post's David Ignatius, who published a column on Jan. 12, 2017, disclosing Flynn's conversation and musing about whether Flynn had violated the obscure Logan Act."
On June 3, Arter transcribed a hypocritical rant by Republican Sen. Ted Cruz: "[T]he predicate for all of this is the Logan Act, which you know perfectly well is an unconstitutional law that no one has ever been prosecuted under in the history of the Department of Justice and should have been laughed out of the room. n any responsible Department of Justice if someone had suggested we're going to go after the incoming national security advisor for violating the Logan Act, which says an American citizen can't talk to a foreign leader, I guarantee you today, right now John Kerry is violating the Logan Act. Now fortunately, It's an unconstitutional law, so who cares?" Jones transcribed a similar Cruz rant he made on Fox News.
In an Aug. 6 article, Jones went after testimony from former deputy attorney general Susan Yates regarding Flynn and the Logan Act and Graham's response:
Yates told the committee she has a "vague memory" of FBI Director Comey mentioning the Logan Act at the Jan. 5 meeting. The Logan Act, passed in 1799, forbids private citizens from engaging in unauthorized communication with foreign governments.

Graham told Yates he doesn't understand why the Logan Act came up at the meeting:

"You had one administration leaving in two weeks and you had a new administration coming in, urging them, don't escalate. To anyone who thinks that is a violation of the Logan Act, that is stunning as hell -- you cannot hit the ground running."
Jones continued to flog this in an exceedingly lengthy Nov. 13 article:
Democrat Joe Biden is taking calls from various foreign leaders as he prepares to become president.

But no one is suggesting that he may be violating the Logan Act, an archaic federal law that bars unauthorized American citizens from negotiating with foreign governments.

However, when President Trump's incoming national security Adviser Michael Flynn spoke to the Russian ambassador twice in late December 2016, the Logan Act was raised a short time later at a Jan. 5, 2017 White House meeting attended by President Obama, Vice President Biden, FBI Director James Comey and others.

"The Logan Act was not used as a basis to go after General Flynn," Former FBI Deputy Director Andrew McCabe told the Senate Judiciary Committee earlier this week.

But was it used as a reason to keep the Flynn case open, just as FBI agents were about to close it?
For an "archaic" law that nobody has ever been successfully prosecuted under, Jones is sure obsessed with it.
Posted by Terry K. at 3:18 PM EST
Updated: Monday, December 7, 2020 3:25 PM EST