CNS Dismisses 'Impish' Zoom Bombers (Who Post Porn And Racism)
Topic: CNSNews.com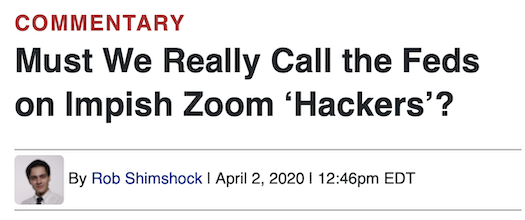 CNSNews.com commentary editor Rob Shimshock wrote about "impish" Zoom "bombers" -- people who impede unauthorized on other people's Zoom meetings -- in an April 2 op-ed:
With quarantine in full effect for much of the nation, meetups spanning from college classes to Alcoholics Anonymous have migrated into the digital sphere, hosting sessions on audiovisual platform Zoom. But these calls are receiving some unexpected participants, with churlish netizens disrupting meetings en masse, hurling anything from acerbic japes to vile invective and using the app's screen-share tool to portray content ranging from Guitar Hero to crude Microsoft Paint sketches of certain regions of the anatomy.

The New York Post starts a piece entitled "FBI warns of hackers hijacking online Zoom meetings, classes" by claiming that "even working from home isn't safe!"

That's right; online trolling is on the same tier as a murderous virus.

[...]

Over the past half-day, I've sat in on a few of these trolling sessions — in a purely journalistic capacity! Users are finding Zoom room numbers and passwords through publicly accessible venues like Twitter. Such information is often posted pseudonymously and accompanied by messages such as "raid my math class tomorrow," suggesting that mischievous students and members of other groups are hoping some anonymous prankster will raise hell on their behalf during a tedious lecture or briefing.

In short, joining these calls unsolicited is just as much a "hack" as taking your dog to a public park is an "invasion."
But in dismissing the Zoom bombing as merely "impish" pranks, Shimshock is ignoring the more malicious aspects of it. Pornography is one of them; one school district online Zoom class with elementary school students got interrupted by porn. People using racial slurs bombed a college meeting of black students.
it's strange that Shimshock would dismiss porn-related Zoom bombing, since it has been praising states for claiming that pornography is a "public health crisis," and a day after Shimshock's column appeared, his boss, managing editor Michael W. Chapman, cheered Utah -- ironically, the state where the porn-bombing of the elementary students occurred -- for requiring warning labels on porn. We're less surprised about the racist stuff, given that CNS commentary section that Shimshock runs continues to publish the column of Michelle Malkin, who has been leaning hard lately into white nationalism and anti-Semitism.
Shimshock does point out that Zoom adjusting program settings will block the bombers, but he framed it as "a good ol' dose of personal responsibility."
Posted by Terry K. at 12:53 AM EDT
Updated: Monday, April 20, 2020 8:33 PM EDT