MRC Falsely Suggests Right-Wing Reporter Who Violated Social Distancing Rules Is A Victim
Topic: Media Research Center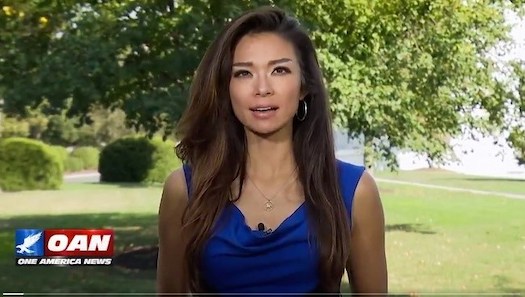 The Media Research Center's narrative of conservative victimization is so pernicious that it has to suggest discrimination against a right-wing reporter who was clearly in the wrong. Kristine Marsh wrote in an April 2 post:
The White House Correspondents' Association abruptly decided to boot a conservative news network reporter from future White House briefings, announcing Wednesday night that she had violated the rules of "social distancing" during this COVID-19 crisis.

According to a statement put out by the WHCA, the reporter in question, One America News Network's Chanel Rion had violated new rules imposed by the journalist organization in the past month, which limit the number of reporters in the briefing room to fifteen. According to the Washington Post, smaller news networks could only rotate in "once every several days" for one of these key seats, however, Rion was seen in the room on both Tuesday and Wednesday this week.
So far, so good. But then Marsh suggested Rion was banned becuase she "aggravated liberal journalists":
However, Rion aggravated liberal journalists a few weeks ago, when she asked President Trump if "Chinese food" was "racist," (referring to the media's sudden insistence that calling COVID-19 the "Chinese" or "Wuhan virus" was "racist"). In a follow-up question during that same briefing, she also called out the media defending and propagating China's propaganda deflecting blame for the spread of COVID-19.

In 2018, the WHCA defended a combative Jim Acosta after he rebuffed a White House intern as she tried to take back his microphone during a briefing with President Trump. The White House temporarily suspended his press pass and the WHCA couldn't have been more furious. The former president Olivier Knox wrote, "Journalists may use a range of approaches to carry out their jobs and the WHCA does not police the tone or frequency of the questions its members ask of powerful senior government officials, including the President."
Marsh's insinuations against the WHCA is a cheap shot that is without factual basis. Rion messed up, and Marsh -- if she is willing to be totally honest -- know it. But she tries to shamelessly portray Rion as a victim of purported anti-conservative discrimination anyway when she has to know that's not the case.
The narrative trumps the truth at the MRC, and this is just another example of that.
Posted by Terry K. at 8:42 PM EDT