MRC Working-The-Refs Watch
Topic: Media Research Center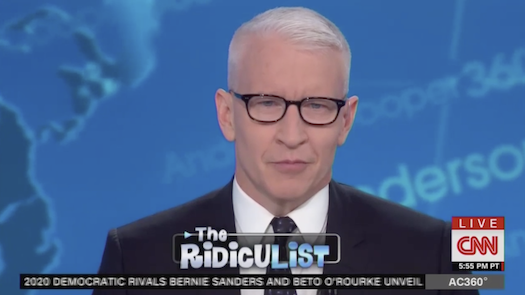 We've been documenting the Media Research Center's narrative for attacking Democratic presidential debates: a pre-debate attack on the moderators, followed by post-debate posts making evidence-free claims about how supposedly biased the moderator's questions were. That was pretty much the pattern for October's debate.
The morning of the Oct. 15 debate, Geoffrey Dickens trotted out the required attack item on CNN's Anderson Cooper, serving up what he claimed was "a collection of Cooper's liberalism at CNN" out of the MRC archives, "from trashing the 'treasonous' Trump to hailing Hillary Clinton as the 'Queen of Compromise.'" Dickens did attempt a backhanded complement: "While Cooper has in the past shown the capacity to ask tough debate questions, a look through the MRC archives suggests it's more likely that if the AC360 host does ask any challenging questions, they'll be from the left."
One of the things Dickens deemed to be "liberal" about Cooper was the accurate observation that former White House press secretary Sarah Huckabee Sanders wasn't a fan of telling the truth. Dickens offered no evidence that Cooper was wrong.
Exactly 12 hours later, after the debate, Scott Whitlock took up the attack baton, ranting that Cooper "made sure to exonerate the Bidens, telling Joe Biden that your son has been "falsely accused" and there's "no evidence" of any wrongdoing when it comes to Ukraine." Whitlock offered no evidence that Cooper was wrong.
A few days earlier, though, the MRC changed its focus on a CNN-hosted LGBQ town hall by adhering to its anti-gay roots and mocking the mere existence of it. Curtis Houck sneered:
After thinking that having a seven-hour-long town hall about climate change was a great idea, CNN returned Thursday night with a four-and-a-half hour town hall partnering with the Human Rights Campaign (HRC) about LGBTQ issues.

Rampant protests calling attention to black trans women, Chris Cuomo joking about preferred pronouns, and flat-out abuse with transgender elementary-age children were just a few of the things that transpired.
In listing what he called "the craziest questions" from the forum, Houck added: "The following round-up does not include the absolutely ludicrous meltdown by transgender woman Blossom Brown during Beto O'Rourke's portion." No, that was deemed worthy of its own post by Nicholas Fondacaro, who put "Raging Black Trans Woman" in his headline and worked to keep up the mockery: "The already bonkers LGBT town hall went wild Thursday night when a black trans woman named Blossom C. Brown rushed a questioner from the audience, stole the mic, accused CNN of erasing black trans women, demanded people 'Google' her, and almost climbed on stage."
We get the feeling that Fondacaro would have mocked the woman just as savagely even if she wasn't "raging."
By contrast, the MRC published nothing about an Oct, 24 town hall on Hispanic issues -- perhaps because it was put on by conservative outlet Newsmax.
Posted by Terry K. at 6:10 PM EDT
Updated: Tuesday, October 29, 2019 8:07 PM EDT