Working The Refs, Part 3: MRC Bashes Even More Debate Moderators
Topic: Media Research Center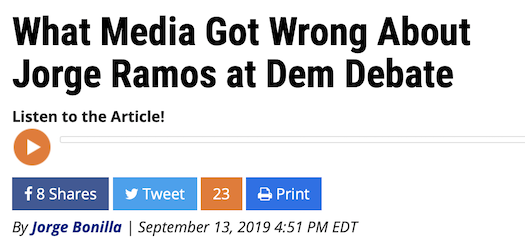 The Media Research Center has been running a narrative for its coverage of the Democratic presidential debates: Crank out a huffy post before the debate attacking the moderators as irredemably liberal, then declare victory afterward that its narrative against them was proven correct (through murky analysis of the questions asked). And so it was with the MRC's look at the Sept. 12 debate.
Geoffrey Dickens established the talking points in a Sept. 11 post: "The moderators for ABC's Thursday night Democratic debate include a former Bill Clinton campaign staffer and an anchor who was actually kicked out of a Donald Trump campaign event. So it's safe to say ABC's Democratic debate hosts won't be asking any tough questions of the candidates – at least none from the right." Dickens listed the moderators' purported "history of liberalism" and made sure to huff that the former, "Good Morning America" co-host George Stephanopoulos, "spun the news as Bill Clinton's 1992 campaign advisor and then White House Communications Director" and dwas also a "Clinton Foundation donor."
For the latter, Univision host Jorge Ramos, Dickens repeated that he "was so rude he was removed from the press conference." As we've documented, the MRC held Ramos to a higher standard by ranting that he was an "activist" and worse then it held Daily Caller reporter Neil Munro when he was similarly rude to President Obama in 2012. The MRC also was much more sympathetic to another activist reporter from the right-wing Breitbart who got booted from a campaign event for Beto O'Rourke, declaring that O'Rourke, not the reporter, was the rude one.
The day of the debate, Rich Noyes weirdly complained that "debate host ABC's evening newscast has awarded a majority of its news coverage to just one candidate: former Vice President Joe Biden" while virtually ignoring other candidates. This is just more lazy research; Noyes focused only on a single, short program and ignored other ABC news programs and its website operation.The point of all this, of course, whas a cheap gotcha, as Noyes revealed in his final paragraph: "So, the question can be posed: Have the media already effectively winnowed the Democrats' 2020 field before the voters ever had a chance make themselves heard?"
This was followed by a post by Joseph Vasquez claiming that "at least 29 executives from ABC, or parent company Disney, have donated to Democratic candidates." He later conceded, however, that these executives "held entertainment roles with Disney Television Studios, Walt Disney Studios, Disney+ and Twentieth Century Fox," and he identified none as linked to ABC's news operation.
Shockingly, however, the MRC's initial post-debate reaction was praise, not its usual attack mode. Scott Whitlock did the deed:
It's actually possible to ask 2020 Democratic candidates questions that conservatives want answered. Thursday's debate was proof that it can be done. To be clear, there were plenty of liberal questions, including wondering how forcible gun confiscation "will work." Yet, ABC did manage some queries of interest to conservatives, including demanding answers on eliminating private health insurance, not speaking out on socialist dictators and calling Trump voters racist.
Yes, the MRC insisted that merely asking how a proposed policy would work was "liberal" -- Whitlock devoted an entire post to the subject.
But the MRC wasn't about to let the moderators off that easy. Cue Jorge Bonilla complaning that Ramos was being praised for the questions he asked and insisting how we're all wrong for doing so:
Much of the media misread of Ramos' performance stems from his exchange on "democratic socialism" with Sen. Bernie Sanders (I-VT). Ramos garnered wide praise for daring to ask a tough question. Except that it wasn't. For starters, Ramos had already put the Venezuela question before Sanders, on Univision's Sunday political affairs showAl Punto.

In fact, one could call it a dry run inasmuch as Sanders' answer was identical to what he proffered at the debate, varying only in degree of denunciation of Venezuelan tyrant Nicolás Maduro (going from "abusive" to "cruel tyrant"). Sanders then transitioned into a furious defense of his brand of so-called "democratic socialism," which made Ramos' question look a lot tougher than it actually was[.]

[...]

But the question only looked tough because Sanders botched the alley-oop. If Ramos's own Facebook Watch program is any indication, it looked like the question was framed so as to set Sanders up for an affirmative differentiation of "democratic socialism" vis-a-vis Cuba, Venezuela, and North Korea.

Ramos' weird segue from Venezuela to veganism, the Amazon to climate legislation (in furtherance of the Green New Deal) reinforces this track. The intent was clearly not to make "democratic socialism" look bad.

Otherwise, Ramos' role within the debate was wholly predictable.
Just about as predictable as the MRC's narrative about it.
Posted by Terry K. at 6:28 PM EDT