WND's Peterson Goes Full White Supremacist
Topic: WorldNetDaily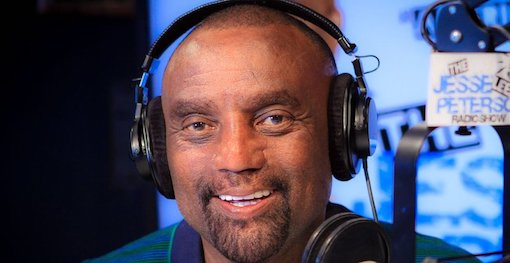 A couple weeks back, we noted that WorldNetDaily columnist Jesse Lee Peterson had cranked up his white supremacist schtick by gushing over how "white men founded and built America, the greatest country on earth" and declaring that "If we lose whites as a majority, we lose America."
Well, Peterson found a bigger crank. Behold his July 21 WND column:
This month of July is my second annual celebration of White History Month. America is great thanks to white people. But it's so overrun with blind white-hating people that we now have a Muslim woman with a head rag in Congress! Rep. Ilhan Omar, D.-Minn., is an evil, America-hating, Christian-hating "social justice warrior." But she falsely claims, "I probably love this country more than anyone that is naturally born." Her kind of "love" is the same emotional, egotistical spirit as angry single black mothers who raise thugs and defend them when they commit crimes.

I've been saying for years that if anyone does not love this country, they can leave! If you hate white people, and you believe in so-called "racism," even though whites let you into this country, go back to Africa or wherever you came from! Same with the white communist antifa members who hate American freedom – get out of my country!

President Trump rightly said the same thing in a few tweets last Sunday. He suggested that these "progressive" Democrat Congresswomen "go back and help fix the totally broken and crime infested places from which they came." He's right. But they won't, because they're hypocrites – including Alexandria Ocasio-Cortez, Ilhan Omar, Rashida Tlaib and Ayanna Pressley. Not only will they not fix their own communities, they want to mess up ours! They only offer abortion, immoral socialism, false victimhood and hatred of white people, men and Christians.

[...]

There's nothing more important than rebuilding men. There are no men in the Democrat Party – only weak beta males. Women run the Democrat Party, which is anti-American and of Satan. We saw what happened when men disappeared from black homes. The black community worships "mama" while they kill one another. Now other races, including whites, follow in blacks' footsteps of self-destruction, by following women. Whites have turned to weakness and surrender, thinking the people of color will love them. That's not the way.

Watch and learn from this president, who makes evil unwelcome again.
Again: Peterson sounds no different from David Duke, Jared Tayulor or any garden-variety white supremacist. But sounding like a white supremacist is something WND wants in his columnists -- espeically since he can invoke his black-conservative privilege and face no consequences in his shrinking right-wing bubble.
Normal, polite society doesn't accept this kind of talk from white people. Why should Peterson get away with it?
Posted by Terry K. at 12:26 AM EDT
Updated: Saturday, July 27, 2019 12:27 AM EDT