WND's Massie Serves Up Another Bad Rant, Plus Thesaurus-Diving
Topic: WorldNetDaily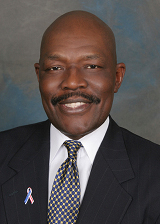 Mychal Massie's July 8 WorldNetDaily column is purportedly about "why both the left and right lie," though it's suspiciously silent on the five-digit amount of falsehoods spread by the current leader of the right, President Trump. Massie did go to his thesaurus to pull out the term "Erebusic marplots," then goes on this little rant:
Today American politics is about duplicitous dishonesty on an unprecedented scale. Politics is about getting away with committing treasonous betrayals and having others pay the price for your murderous political machinations.

Speaking of which, do you remember Nakoula Basseley Nakoula, a Coptic Christian, who was knowingly falsely accused of fomenting murder and mayhem on a global scale? Nakoula was imprisoned and ultimately reduced to "living in a homeless shelter run by First Southern Baptist Church in Buena Park, California."

You probably are more familiar with Nakoula as the falsely accused filmmaker whose YouTube video was blamed by Obama, Hillary, Susan Rice and a torrid around-the-clock montage of false claims looped by the mainstream media as the singular primary reason for the Benghazi attack by terrorist Muslims.
Massie offered no evidence that Nakoula was "knowingly falsely accused" of inciting the Benghazi attack through his crappy film; that was a theory initially advanced by the intelligence community that was ultimately proven to be false, though it did apparently inspire (or was exploited as an excuse to engage in) protests that sometimes turned violent.
Massie also falsely portrays Nakoula as having been imprisoned because he made an anti-Muslim film. In fact, Nakoula is a criminal with a long rap sheet who was imprisoned for violating probation by using the internet in the form of uploading his film. Nakoula also deceived the actors in the film by letting them believe they were making something else and not that their performances would be re-dubbed into an anti-Muslim screed.
Further, the "homeless shelter" Nakoula was living in after serving his prison sentence (wher ehe had his own bedroom, not among the general population) was run by one Wiley Drake, an Obama birther who prayed for President Obama's death.
Massie then huffed that "It seems that the only thing the dark evils mentioned above hate more than the truth is President Trump," apparently oblivious to the fact that the real truth-hater here is Trump himself.
Posted by Terry K. at 12:34 AM EDT