WND Columnist Has A 'Genderbread' Freakout
Topic: WorldNetDaily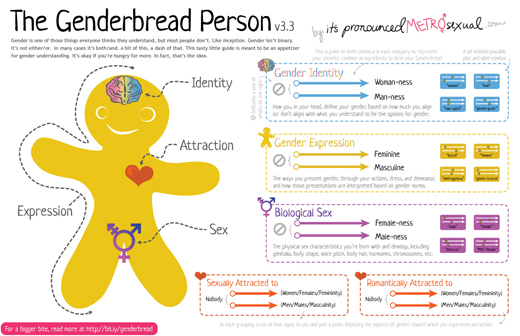 In the wake of folks on Fox News debating the proper gender of gingerbread figures, Rachel Alexander writes ominously in her Dec. 20 WorldNetDaily column:
You spend $20,000 annually on tuition for your child to ensure he receives a top education. You choose a private school to escape the indoctrination and political correctness the public schools foist on students. Now, you're sure, things are great.

Then your expensive private school pushes the exact kind of agenda you thought you were avoiding. You weren't told about it in advance. Worse, because it's a private school, state legal protections don't apply. Your child cannot opt out.

Parents whose children attend Phoenix Country Day School in Arizona recently discovered that the middle school has been grooming their children with curriculum promoting a transgender and gay agenda.
What is Alexander freaking out about? A "gendebread" poster in the school:
The "Genderbread" curriculum teaches that gender is different from biological sex. There are not two genders, male and female, but rather an endless array of genders. The possibilities include genderqueer, non-binary, pangender, androgyne, neutrois, gender-variant, AG, cyborg, two-spirit, glitterbutch, genderfluid, trigender, stud. It even includes agender and genderless.

The genderbread character is prominently featured in a large bulletin board display in the halls at the middle school. Children as young as 10 years old – the school includes fifth graders – walk by it every day.

[...]

Clearly, the curriculum is not meant for 10-year-old children. The bulletin board has been up for a year at the middle school, but parents only recently found out about it. Many of the parents were horrified, and expressed their disapproval with the curriculum. But the school refused to acknowledge their concerns.

Then suddenly, within the past couple of weeks, the bulletin board disappeared. Parents were not notified. They have no idea whether or not the curriculum has been permanently removed. They do not know how much of it is being taught to their children within the classroom.
Alexander concluded by complaining: "The school did not respond to my questions." Perhaps because they know Alexander is a fringe-right conspiracy theorist who's trying to portray a corrupt congressman as an innocent victim who was framed by the mysterious "Deep State."
Posted by Terry K. at 1:04 AM EST