CNS Reframes Government Shutdown To Bolster Trump's Changing Rhetoric
Topic: CNSNews.com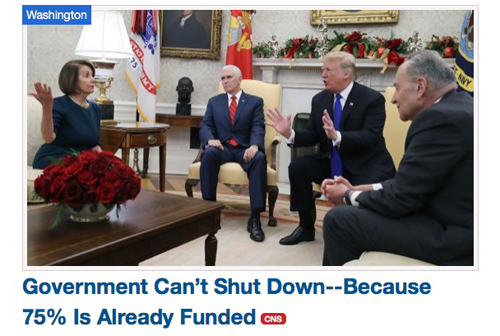 CNSNews.com, like a good, loyal conservative media outlet, was gearing up to blame a possible government shutdown centered around issues of border security on Democrats. A Dec. 11 blog post by Craig Millward, for instance, uncritically quotes Republican Rep. Steve Scalise -- appearing on Mark Levin's radio show, natch -- declaring that "if Chuck Schumer wants to shut down the government because he doesn't want to secure America's border, that's a fight that he's going to lose."
But that same day, President Trump destroyed that narrative by declaring he would take responsibility for any shutdown, as CNS' Melanie Arter wrote: "President Donald Trump on Tuesday threatened to shut down the federal government if he doesn't get border security during a White House meeting with incoming House Speaker-Designate Nancy Pelosi (D-Calif.) and Senate Minority Leader Chuck Schumer (D-N.Y.)."
So CNS was force to rejigger its narrative to keep it from being overtaken by events. That seems to be how we got this Dec. 14 article by Emily Ward declaring that a government shutdown is not a big deal:
Seventy-five percent of the federal government is already funded through all of fiscal year 2019, according to the House Committee on Appropriations. That means a total government shutdown cannot happen.

[...]

While many news outlets are flashing ominous headlines warning of a "looming government shutdown," the reality is that only some of the smaller departments would be affected in the event of a partial shutdown. The two biggest departments, Defense and HHS, are already funded.

Of the potentially affected agencies, only nonessential government personnel would be unable to come to work – such as research scientists. Essential personnel, or government employees whose work is necessary to ensure the safety and security of Americans, would still do their jobs.
As if to complete the synergystic circle, a Dec. 18 blog post by Ward touted how Levin "quoted from a news story on CNSNews.com" on his radio show about how "75 percent of the government is already funded, as reported by CNSNews.com." Ward didn't disclose that she wrote the story that Levin was referencing.
CNS' two major editorial mandates are to support Trump whatever he does and to promote Levin like he was paying it to do so (well over 100 articles so far this year). In this story, it's doing both.
Posted by Terry K. at 9:40 PM EST