MRC Can't Quite Square Its Anti-Facebook Narrative With Facebook's Attacks on Soros
Topic: Media Research Center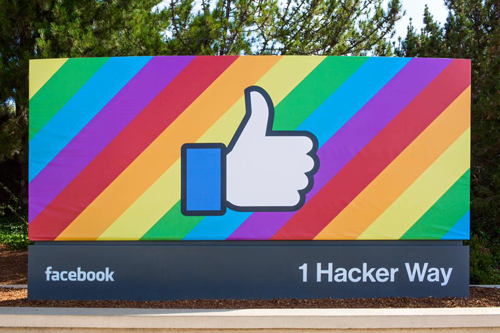 The Media Research Center is still pretending that Facebook's attempts to attack George Soros by siccing a right-wing opposition research firm after him in order to discredit critics of the company doesn't undercut its long-running narrative that Facebook is hostile to conservatives.
A Dec. 6 piece by Alexander Hall touted how Facebook's board of directors found the oppo-research operation to be "entirely appropriate." Hall echoed earlier MRC complaints that New York Times reports about right-wing influence on Facebook were something of a hit job, emphasizing that the Times is "liberal":
Until recently, conservatives have viewed Facebook as the enforcer of the censorius left, which isn't wrong. But after recent revelations from liberal New York Times investigative pieces, the left has openly criticized Facebook for enabling conservatives.

The Times broke the story about Facebook looking into Soros and hiring a firm to research him in mid-November. Later stories indicated Sandberg's role in that research following Soros' condemnation of Facebook (and Google) as a "menace" at the World Economic Forum in Switzerland in January 2018. Facebook hired Definers Public Affairs to provide some research, but the firm's connection to the GOP riled the left. The agency specializes in providing opposition research for political campaigns.
That's the closest Hall gets to broching the subject of the MRC's narrative being undermined.
Hall is even more conflicted in a Dec. 13 post, railing against "biased liberal fact-checkers" leaving Facebook over the Soros attacks:
When Facebook first hired fact checkers to combat "fake news" on its platform, conservatives around the world were right to be concerned. But in light of recent revelations that Facebook funded anti-Soros research, biased liberal fact-checkers themselves are calling it quits.

According to The Guardian, "Journalists working as fact-checkers for Facebook have pushed to end a controversial media partnership with the social network, saying the company has ignored their concerns and failed to use their expertise to combat misinformation."

Liberal billionaire George Soros publicly condemned the platform at the World Economic Forum in Switzerland in January 2018, as a "menace" to society for failing to account for the "consequences of their actions." Facebook then paid for opposition research to investigate Soros and his connections. When the Times revealed this in a hit piece, liberals around the media started to condemn Facebook for engaging in what they considered to be a "hateful conspiracy theory."

Fact checkers, like former Snopes managing editor Brooke Binkowski, claim that their work for Facebook was mere "crisis campaign PR" in order to make the company look good.
Hall offers no evidence that Snopes or any of the other fact-checkers Facebook hired are "biased liberals" or, as he later claims "extremely biased."
Corinne Weaver fretted in a Dec. 18 post about how The number of Facebook's enemies on the left is growing" and was concerned that "A coalition of 31 left-wing groups, including the controversial Southern Poverty Law Center and at least 10 groups that have received funding from liberal billionaire George Soros, wrote" to Facebook CEO Mark Zuckerberg and asked for his resignation over censorship issues and permitting "bigotry and hatred towards vulnerable communities and civil rights organizations."
Isn't that the same argument the MRC has been making? Of course, unlike anyone on the left until very recently, MRC chief Brent Bozell got to chat with Zuckerberg over alleged bias against conservatives, and it and other conservative activists have harassed Facebook to the extent that it capitulated to its conservative-bias narrative.
But Weaver doesn't mention any of that. Instead, she continued to lament the "left-wing groups" going after Facebook.
A day later, Bozell was outraged that Facebook would even talk to liberals about bias and ranted that the company should care only about conservative gripes:
So Facebook has met with radical left-wing so-called "civil rights" organizations and is bending over backward to make changes they want. Chief Operating Officer Sheryl Sandberg even declared that the "audit is deeply important to me, and it's one of my top priorities for 2019."

This is amazing. Mainstream conservative organizations, supported by ten times as many people as these radicals — which is to say, tens of millions of existing or potential Facebook customers — have been demanding the same seat at the table and have been given lip service and nothing more. In fact, in response conservatives are being systematically censored.

For Facebook to continue this nonsense about being impartial and unbiased, and just a "marketplace of information" is offensive. For once and for all, Facebook: Put up or shut up.

Anything less from Facebook when it responds to criticism about anti-conservative bias will be completely unacceptable.

[...]

Conservatives expect equal treatment, equal access and equal participation in an effort by Facebook to moderate content, oversee appeals and build new products. Anything less will never be accepted or tolerated by us.
Bozell was silent about Facebook's previous capitulation to the demands from himself and other conservative activists. He also didn't mention how Facebook echoed another right-wing narrative by doing oppo research on Soros -- which his employees have heartily endorsed -- and how that undercuts his narrative of Facebook as a liberal monolith.
Bozell also doesn't eplain why, if Facebook is such a hostile environment for conservatives, the MRC doesn't just quit Facebook and organize its fellow conservatives to bring their prestige to another social media platform. But then, as we've seen when the MRC complained about the deplatforming for extremist content of other social-media alternataives it refused to support, it's easier for Bozell and Co. to complain about Facebook on Facebook, even though the MRC has never faced any content-censorship issues with Facebook -- again, undercutting Bozell's censorship narrative.
Posted by Terry K. at 3:09 PM EST